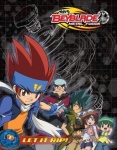 Corus Entertainment has announced that the latest anime iteration of the Beyblade franchise, Beyblade: Metal Fusion, will premiere in the U.S. on the Cartoon Network starting on Saturday, June 26th at 7:30 am (ET, PT). The 51-episode series, which began airing in Japan in April of 2009, has revitalized the franchise there with sales of more than 17 million metal-geared Beyblade tops making Beyblade once again one of the top toy franchises in Japan last year.
Hasbro, which has North American rights to the Beyblade toy franchise, is clearly hoping to rejuvenate the toy line here with an extensive line of Beyblade: Metal Fusion tops that is now expected to debut here in the late summer or early fall (see "Hasbro Reboots Beyblade Franchise").
The new Metal Fusion anime series is a spin-off from the three original Beyblade anime series that aired in Japan from 2001 to 2003. The new series was created by Tatsunoko Pro and Synergy SP, and co-produced by Nelvana. It features all new characters and a new storyline that emphasizes individual battles rather than team battles as the young heroes battle against the evil organization known as The Dark Nebula. Fifty-six episodes have already aired in Japan, which means that it could run longer than 51 episodes here in North America, if it proves to be a hit with kids. The series debuts in Canada on May 15th on YTV, and the Beyblade: Metal Fusion toys are due out this spring in Canada (rather than in the fall as in the U.S.).