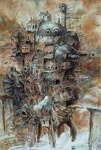 Hayao Miyazaki, the leading director of anime whose films have njoyed not just artistic acclaim but also tremendous box office success (in Japan, Spirited Away has broken all the attendance records), will direct another film. Miyazaki, who is in his early 60s, had mentioned in some interviews that he was unlikely to direct again, but his name has been released as the director of Howl's Moving Castle by the Japanese film distributor Toho, confirming earlier reports that he would assume the directorial reins on this project.
Miyazaki's newest film is based on a popular fantasy novel by British author Diana Wynne Jones, which tells the story of an 18 year-old girl who has been transmuted into the body of an old woman and has to overcome great obstacles to help the powers of good overcome the Wicked Witch of the Waste.

Originally Mamoru Hosoda was attached to this project as director, but he left Studio Ghibli last summer.

So far only one characteristically brilliant Miyazaki sketch for the film has been released.