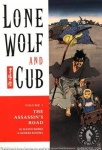 Dark Horse Comics Manga Editor Carl Horn graciously took time out from his busy schedule to answer questions from ICv2 about the current state and future of the manga market in North America. His answers reveal the steady focused approach that has enabled manga pioneer Dark Horse to remain a vital player in that market through 25 turbulent years that have seen numerous other publishers come and go.
What's your estimation of the manga market in North America today—what's hot, what's not, what's trending?
I don't think the North American manga industry (meaning, anyone publishing editions directed at the North American market, regardless of whether they are an American or a Japanese firm) has the power to proclaim tastes and trends to the fans. The original works are not created for a North American readership, and sometimes they find success here years or even decades after their creation. The larger entertainment market in America is focused on the right here, right now. Manga is a small subculture within the vast North American market that, you might say, works outside of normal space and time.
Let's take a recent best-selling title, Kodansha USA's Sailor Moon. Like nearly all manga, it was designed for the Japanese market, not foreign markets. And it's twenty years old. There's no recent anime or movie based on the manga that was used as a hook to revive interest in it. Of course, American comics are also dominated by old properties; when people talk about the youth of manga here, they don't just mean its readership—the best-selling American comic characters were created fifty, even seventy-five years ago.
But here's the difference. If Sailor Moon had originally been an American comic book, even if it were a famous name (as Sailor Moon undoubtedly is) the natural way to make it hot again would have been to re-launch the property as a brand new series for 2012, most likely with new creators. That would be the approach. That was absolutely not what manga fans wanted; they simply desired that Naoko Takeuchi's original 1992 series be available again in a high-quality print edition. And the people making it a bestseller certainly aren't all collectors buying out of nostalgia--many of them were born after Sailor Moon first premiered, but they know this classic by reputation. Finally, look at the simple fact they're buying an omnibus; i.e, a big print collection. Isn't this supposed to be the same generation that downloads everything?
We've seen a similar response with the success of one of Dark Horse's omnibus titles, Cardcaptor Sakura, which shares a heritage with Sailor Moon (they came from the same magazine in Japan and had the same editor). For that matter, Dark Horse's all-time manga best-seller, Lone Wolf and Cub (over 1.3 million copies sold) came out from us thirty years after its release in Japan. Nobody could accuse it of being cute; it has no pretty boys, and although plenty of blood gets spilled, no vampires. It doesn't seem very hot, right? And yet, although we have had many other successful releases in the years since, no "trendier" manga from us has yet beat it. As always, we want to look at the title, not the trend.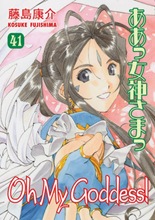 How has Dark Horse's strategy for the market changed over the past 5 years?
Five years ago, there was still a Borders, and the manga boom had crested—but five years ago, Dark Horse had already been publishing manga for two decades. The core of our market strategy for manga is simple (although it takes hard work), a long-term commitment to the medium itself. This August, the longest-running manga in the North American market, Kosuke Fujishima's Oh My Goddess!, turns eighteen. We started OMG! during the era of manga marketed as comic books, continued it into the era of manga marketed as graphic novels, and transitioned into the era of manga marketed as tankobon (Japanese-style GNs). Now we're moving ahead into the era of manga marketed for e-reading.
Again, looking back five years ago, we weren't among those trying to push the idea of so-called "OEL Manga" ("original English-language manga")--but I bring it up because, in retrospect, that was an attempt to proclaim a trend to the North American manga market—something I said you can't really do. The problem was that OEL manga were not manga, which is created for the Japanese market, but comics, created for the North American market, inspired by manga. Again, that's an inspiration Dark Horse respects, and over the years we've published the works of many manga-inspired Western comics artists, from Frank Miller and Geoff Darrow, to Adam Warren and Fred Gallagher, to J.P. Kalonji and Rod Espinosa. Our identity as a U.S. comics company whose nature includes manga means that talented Western creators inspired by Japan have always been welcome here. You'll never hear us say that we don't "get" the "manga style."
But that also protected us from confusing the two, which, because they are created for different markets, have different marketing requirements. The notion of "OEL manga" created problems both for the North American manga market, and for the works labeled OEL manga themselves. The insistence that these be treated just the same as manga added to the weight of titles on the market--one factor (among several) in hastening the time when manga went from boom to bust. And for the works themselves, they became associated with a failed trend, which was not fair to the genuinely good stories and art and the talented creators you could find among the OEL scene.
It's quite possible to have comics and manga work together. Our current ad campaign, "Dark Horse Builds Characters" features posters of, besides Tom Morello and Scott Hepburn's Orchid, and Aang from Avatar: The Last Airbender (an example of an American cartoon respected also by anime fans), Belldandy from Oh My Goddess! Naturally—because if there's one heroine who represents Dark Horse over the years, it would be her (and almost as if to confirm her crossover appeal, Belldandy is currently in the middle of an epic multi-volume story arc fighting her way through the guardian demons of Hell). In that same spirit, I've been working with our marketing department to increase the cross-promotion between our manga and our comics titles—not just using the same house ad we might to cross-promote manga, but, with the advice of some of DH's comics editors, designing special ones intended for particular comics readers.
For example, Brendan Wright, an editor on Creepy, is also a big fan of The Kurosagi Corpse Delivery Service, and he thought Kurosagi's blend of humor and horror would be a good fit for Creepy. Sierra Hahn suggested it might also be good for Orchid, which is one of her titles. I appreciate the support I've received from my fellow editors at DH, because we all care about our individual books.
Readers of our Western comics have good reasons for liking the titles they do, so I wouldn't try to point them to one of our manga unless I was confident it had some of the same qualities they appreciate in their comics. For example, I've talked about how Hiroki Endo's Eden is an outstanding SF action story whose characters are written with real-world political and psychological realism. That sounds like something fans of Brian Wood's The Massive should consider. Katsuya Terada's The Monkey King is a rare example of full-color manga, and has both the bizarre fantasy of Richard Corben and the sardonic humor of Eric Powell.
What are Dark Horse's other major manga properties—and what audiences do they appeal to?
Our CLAMP program, which began in the spring of 2009, has included not only their latest new book in Japan, Gate 7, but an acclaimed set of omnibus collections of their prior classics such as Clover, Chobits, Magic Knight Rayearth and Cardcaptor Sakura, with Angelic Layer coming soon. These were not simply re-bindings of previously published material; CLAMP actually made their original art available to us so that we could redo the books from scratch and present them at their best. As a comics company, it's natural for us to work with creators, and if we have the chance to do so with our manga titles, we certainly pursue it.
Neon Genesis Evangelion also began in the spring of 2009 with Vol. 1 of The Shinji Ikari Raising Project, an ongoing series with 11 volumes to date. We added Neon Genesis Evangelion: Campus Apocalypse, a four-volume mini-series, in 2010. These titles are to Evangelion what Dark Horse's Expanded Universe comics are to Star Wars. In both cases, you have immensely popular franchises where fan demand for the characters has outgrown the original story. Even though Evangelion is a graphic novel series and not a monthly comic, we have a vigorous letters column and fan art section included in each volume, a home for people to discuss all aspects of the series. CLAMP and Evangelion have brought Dark Horse new readership, and the former especially has corrected the misapprehension we weren't interested in shojo manga.
But we haven't neglected the old ultra-violence, continuing with Hiroya Oku's Gantz and Drifters, the new work from one of manga's mad geniuses, Hellsing's Kohta Hirano. I've talked a lot about Oh My Goddess!, but our second-longest running title, sixteen years to date, is Hiroaki Samura's Blade of the Immortal—which is an interesting case study in long-term U.S. manga readership. Ten years ago, there was the whole debate about publishing manga Western-style (flopped) or Japanese-style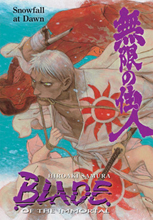 (unflopped). It was thought that the question was settled definitively in favor of unflopping. But what's happened in recent years is that flopped manga have quietly come back onto the market, as represented by some titles from Drawn & Quarterly and Vertical—and these are still excellent adaptations that have found a readership.
Blade of the Immortal,
however, started flopped when that was the industry standard, survived the later debate flopped, and is still flopped to this day—and because that's what the faithful readership of this particular book wanted. Again, "the title, not the trend." The ultimate goal for each book is to see it succeed.
Any new releases that you have (or are going to) introduced in 2012?
We anticipate making announcements about at least five new manga as we move into this year's convention season, with some to be announced in just a few weeks, at Dark Horse's Saturday panel at Sakura-Con in Seattle, this April 6-8. That's happening at the same venue as Emerald City Comic-Con, just one week afterward, so we're pretty busy all around on the preparations at Dark Horse. On that note, we know a lot of readers of Blade of the Immortal are crossover U.S. comics fans, so they'll be pleased to know that one of the new manga is a title by Samura previously unpublished in English. As always, what we can say, and when exactly, will depend on contracts being finalized.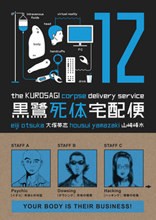 Returning in 2012 (the last volume was published in 2010) is the long-awaited
The Kurosagi Corpse Delivery Service
, whose vol. 12 hits stores March 28. Our omnibus of
FLCL
, the manga version of the anime Adult Swim once said "will change your life," is out May 16, with additional content including an SFX translation, new back cover and spine art, color pages, pinups and bonus strip. In September is Book One of our new CLAMP omnibus project,
Angelic Layer,
which was the prequel to
Chobits,
and a represented a major turning point in their art style. The omnibus collections of
Magic Knight Rayearth
conclude in April, with the sequel story
Magic Knight Rayearth
2, and
Cardcaptor Sakura
Book Four
i
s out in September--ending in a blaze of bonus color pages, as CLAMP gave us an additional dozen pieces to include, for a total of forty-one paintings!
Where do you think the manga market in North America is going?
2012 marks 25 years since manga became a real part of the U.S. comics and book market—it began here in 1987 with Lone Wolf and Cub, the first manga series to be published here on a regular schedule. But the manga itself dated from 1970! From the very beginning, the North American manga market has had a strange and not always congruent relationship to what's happening in Japan. Nobody can sell it here just because it's "a manga," and we don't have the powerful marketing tools of either the Japanese industry, with their closely-planned anthology magazines, or the American industry, with its ability to put commonly-owned books into the same universe. We are forever ambassadors, doing our best to introduce these strangers from a faraway country. But manga is 25 years old here because of those in this industry who understand our responsibilities to the books and the creators, and that it is never going to get any easier. Success will continue to be earned book by book—earned from the North American fans, who have been willing to receive these books in our care, as long as we do our part, and treat these books as they do, with understanding, and never as a commodity.
What is your estimation of the problem posed by scanlated manga?
The real problem comes in more with what someone doesn't do, than what they've done. The problem is not buying the licensed edition, because that's the only one that can be truly quantified in terms of how the book is doing out there. Manga are created as part of an industry; an industry deals in what can be measured. Neither we nor the Japanese publishers can measure what people read, only what they buy. Some manga fans rarely or never read scanslations. And I'm certain there are fans out there who've read a scanslated version of a manga licensed by Dark Horse... and who also bought the actual manga from Dark Horse when it came out. It's important for everyone to understand that, in the end, all we (and the Japanese publishers) can really quantify are the sales--or lack of sales--of the actual licensed edition of the manga, be it in print or digital. That's the crucial point, the critical moment where a fan gets to make a personal difference towards manga's growth and presence outside Japan. We think about the internet as a place full of pirated manga. But it's also full of fans talking about the licensed manga they bought this week or month, and even showing off their books and shelves on their blogs or YouTube. I really appreciate the spirit behind that. These are fans who are taking an active part in this industry. They're helping to bring more manga over here.