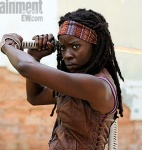 Since it is the highest rated series in the network's history, it is certainly no surprise that The Walking Dead will be back for a fourth season on AMC. And of course AMC will issue the obligatory 4th Season renewal press release after the first episode of Season Three debuts to big ratings on October 14th, but a notice on the American Red Cross Website about a joint blood drive promotion between AMC and the Red Cross confirms that the network plans to put a fourth season of The Walking Dead into production in 2013.
The sharp-eyed horror movie mavens at
JoBlo.com
caught the posting on the Red Cross blog, which states "AMC and
The Walking Dead
are joining forces with the American Red Cross for a nationwide blood drive that, aside from being a great way from showing your humanity, also might win you a 3-day, 2-night trip to the Season 4 production of
The Walking Dead
in 2013."
Not that the show's renewal was ever in doubt, especially with interest in the Third Season, which features the new (to the TV series) fan-favorite characters Michonne and The Governor, at an all time high. AMC has released a featurette about the training that Danai Gurira has undertaken for the role of the katana-wielding Michonne, and there will be a new "Governor" story in the next issue of the CBLDF's
Liberty Annual 2012
(see "
Governor Story in 'Liberty Annual'
").