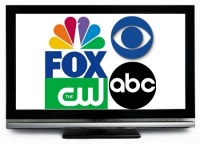 Prime time viewership is down 10% to 30% this fall vs. 2011, with over-all TV usage by viewers 18-34 down 9%, according to
USA Today
. This is the culmination of trends that have been accelerating in recent years, leading CBS chairman Leslie Moonves to say, "This year has really sort of been the tipping point that we've been expecting."
There are a variety of reasons, according to the report. First, fewer and fewer people are watching shows when they first air, and DVR viewers are only counted for the first three days for advertising purposes. Nearly 40% of 18-34 prime time network viewers are watching shows at times other than when they first air. And then there's free streaming, online purchases, and mobile, all of which also take some of the live audience away. "[O]vernight ratings don't mean anything," Moonves said.
Sometimes streaming can feed into a live audience.
The Walking Dead
led into its Season 3 premiere with the release of Season 2 on Netflix the day before, and around 200,000 viewers watched the full season on that one day, which may have dialed up the excitement and helped the premiere set records (see "
'The Walking Dead' Season 3 Premiere Sets New Records
").
Geek culture may be one of the areas that's holding up best on the major networks (after sports and other live competition events). Big Bang Theory is still getting good ratings, and the post-apocalyptic Revolution is the top new show for 18-34s.
But original geek programming, which has been migrating to cable for decades, is also starting to show up on other venues, most recently the new
Battlestar Galactica
series on YouTube channel Machinima (see "
'Blood and Chrome' on Web
").
What seems clear is that the era when everyone sat down at the same time every week to watch network shows is drawing to a close, and a new era, when viewership is more diffuse both in time and in venue, has begun. The advertising business model is being rapidly disrupted, but as long as audience measurement and ad delivery adapts, programming choices should survive and thrive, supported not only by advertising but by increasing revenues from paid streaming.

These trends have been accelerating for some time; now the future is here.