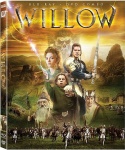 Willow, the fantasy classic produced by George Lucas and directed by Ron Howard, is coming to Blu-ray for the first time, releasing March 12th. It will be packaged as a Blu-ray + DVD combo-pack, and is set to coincide (roughly) with the 25th anniversary of the feature film, which debuted in May of 1988.
New features include a digital transfer of the movie overseen by Lucasfilm, plus "Deleted Scenes with Ron Howard" and "An Unlikely Hero Personal Video Diary of Warwick Davis." Special features carried over from the previous DVD release include matte paintings, "The Making of an Adventure" (with an all-new intro from Howard), and "From Morf to Morphing: The Dawn of Digital Filmmaking" (with an all-new intro from visual effects artist Dennis Muren).
Willow chronicles the adventures of the diminutive Willow Ufgood (played by Davis), who teams up with a rogue warrior named Madmartigan (Val Kilmer) for an epic cause: to protect a baby girl who is destined to one day dethrone the evil Queen Bavmorda (Jean Marsh).
--Brett Weiss