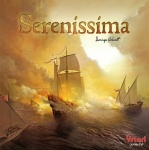 Asmodee will be releasing new versions of two classic "Euro" style games this month. Serenissima and River Dragons are both scheduled to release on January 16.
The new edition of Serenissima was produced in partnership with Ystari Games. In this game, players construct galleys, load them with crew and cargo, and send them out into the Mediterranean Sea to reap a fortune in gold while defending their lucrative trade routes from piracy. Serenissima was originally published in 1996. This new edition features revised rules and a greatly reduced playing time. Suggested retail price will be $49.99.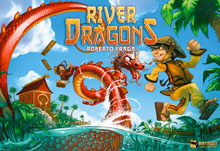 River Dragons
was originally published under the name
Dragon Delta
in 2000. The game features a bridge-building race across a wide river. Players act simultaneously, using "stones" and "boards" to construct their own network of bridges, hoping to reach the far side first. This new version of the game includes a double-sided game board. Suggested retail price: $39.99.