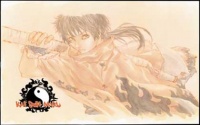 Manga Entertainment has announced that it will release Kai Doh Maru, the new anime feature from Production IG, on DVD this summer at a $24.95 MSRP.

The feature combines traditional animation with CGI, and includes surround sound even on the title track.

Kai Doh Maru is set in the Heian era of Japanese history; the story follows the title character as she is enlisted as a warrior with 'the four knights' to protect Kyoto, the capital, from warring enemies.

DVD extras include revised character trailers, interviews, and 3D fly-throughs of rendered models used in the film.

Production IG is the house responsible for Ghost in the Shell and Blood:

The Last Vampire.

Skypilot Entertainment did the U.S. adaptation for Manga.