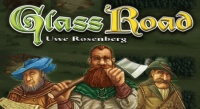 Z-Man Games will launch Glass Road, by designer Uwe Rosenberg (Agricola), at Essen this fall with worldwide release "shortly after."

Glass Road is themed around the 700 year old tradition of glass making in Bavaria. Players must manage their glass and brick production to build and manage their businesses. Wood must be harvested from the forest to keep the ovens burning, and as you expand, there are ponds, pits and forests that have to be utilized for supplies and removed for more building. Each player has fifteen specialists to aid in his or her ventures.
The box contains 4 Landscape boards, 4 Production boards, 1 Building board, 40 wooden resource markers, 60 Specialist cards, 90 buildings,a Beasts/ Items deck, 50 Landscape tiles, and a rulebook. The game is for 1-4 players, ages 13 and up. MSRP is set at $64.99.