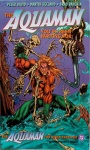 It appears that when it comes to superhero movies, having a muscular slate of releases in future years is so important that studios claim dates first, as Warner Bros. recently did with nine announced movie debuts for as-yet undesignated films between 2016 and 2020 (see "Batman Blinks"), and then hires writers and directors to create the movies for the pre-arranged dates. This is the opposite of the normal process in which studios hone the scripts first and then secure the talent and finally stake out a release date. The reason for this complete reversal of the normal development process is the proven popularity of superhero films and Warner Bros.' burning desire to compete with Disney's immense success with its string of Marvel Studios films.

Does this mean that every Warner Bros. superhero project will get made? Of course not, but the studio is giving these properties every chance. Case in point—for the Aquaman movie, which is currently in development, Warner Bros. According to The Hollywood Reporter, the studio has hired two writers to write separate Aquaman scripts. Normally just one writer (or team of writers) is working on a project at one time. If the script they deliver does not pass muster with the studio heads, then the studio has to hire another writer for the project and wait until a second screenplay is complete. With Aquaman, two versions of a potential film are being created simultaneously and the studio can then either choose the best treatment or combine elements from both scripts.

The writers chosen to work on the script for an Aquaman movie, which will star Jason Momoa (see "Jason Momoa Confirmed as Aquaman"), are Will Beall, who wrote Gangster Squad, and Kurt Johnstad, who worked with Zack Snyder on 300 and wrote the Snyder-produced sequel 300: Rise of an Empire.

Aquaman, who was created by Paul Norris and Mort Wisinger way back in 1941, could be a tricky character to bring to the screen, because there remains a perception that resulted largely from the 1970s Super Friends cartoon series, that Aquaman was a bit of a simp with just the power to communicate with fish and other denizens of the deep. This "Aquaman sucks" mentality lives on in mainstream pop culture in spite of the fact that the Aquaman portrayed in the DC Comics of the past two decades has been a very complex and interesting character attempting to discover how he fits into the grand scheme of the DC Universe. So bringing Aquaman to the screen will likely entail rehabilitating his image with mainstream audiences.