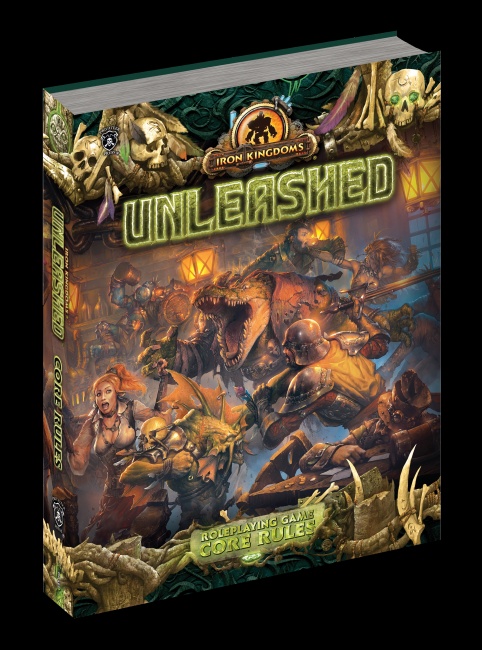 Privateer Press will release the
Iron Kingdoms Unleashed Roleplaying Game: Core Rules
in April, along with a supporting launch kit. The mammoth
Core Rules
hardcover will weigh in at 480 pages for a $59.99 MSRP.
Iron Kingdoms Unleashed
is the new hyper-aggressive RPG in the
Iron Kingdoms
setting (see "
'Iron Kingdoms Unleashed'
").
The Core Rules include iconic careers such as bone grinders, bloodweavers, monster hunters, and warlocks; and eight playable races: bog trog, farrow, gatorman, human, Nyss, pyg, Tharn, and trollkin. Players can control warbeasts, create talismans from their fallen foes, and fight to survive in the unforgiving wilderness and savage history of western Immoren.
The taglines for the game are succinct: "Become a hero. Eat what you kill."
The rule set will be compatible with Iron Kingdoms Full Metal Fantasy rules.
The Core Rules release follows the release the previous month of an Iron Kingdoms Unleashed intro box (see "Privateer Plans 'Iron Kingdoms Unleashed' Intro Product"), a la Dungeons and Dragons.
The Core Rules Launch Kit contains four standard copies of the rule book, and one copy of a limited cover variant edition at a $299.95 MSRP. It will only be available to brick and mortar retailers.