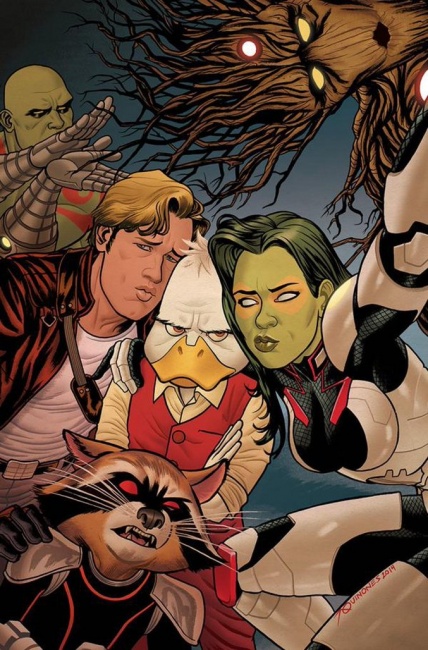 Comic books inspiring movies is today's "man-bites-dog" story, but in April Marvel has prepared something quite different--a comic book narrative that explains just exactly how Howard the Duck managed to get himself into one of the Collector's (Benecio Del Toro) glass cases in the post-credits scene that was attached to James Gunn's
Guardians of the Galaxy
, which remains, for the next few days at least, the most popular movie of 2014 in the North American market.
Howard the Duck
#2, by Chip Zdarsky and Joe Quinones, provides the fascinating narrative that explains how Howard the Duck found himself a part of the Collector's massive holdings along with the irascible Rocket Raccoon. As the Marvel solicitation put it, "Howard's first big case has taken him across the universe and landed him in the clutches of The Collector! But he's not alone as the very popular Rocket Raccoon is a prisoner as well. Have you ever seen a comic book sequel to a post-credits scene in a movie? Well now you have."
Of course, as the comic's cover illustration indicates, the other members of the
Guardians
are bound to be involved in the rescue of Rocket and Howard, though we will have to wait until April to find out exactly how they accomplish their mission.