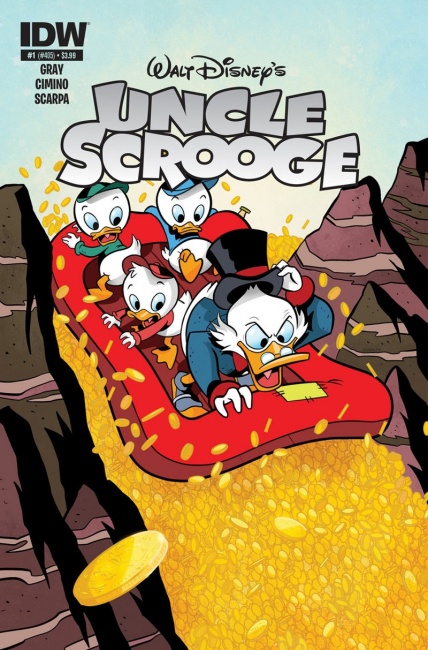 IDW Publishing announced today that it will publish a new line of
Disney
comics featuring
Mickey Mouse, Donald Duck, Uncle Scrooge
and the rest of the classic anthropomorphic funny animal characters that have made comic books based on Disney characters a presence in the industry for most of the past 75 years.
IDW's Disney publishing program begins in March with the
Artist Edition
of
Don Rosa's Life and Times of Uncle Scrooge
, and continues with the launch of a new ongoing monthly
Uncle Scrooge
series in April, followed by a
Donald Duck
ongoing monthly series that debuts in May, a
Mickey Mouse
comic in June, and a
Walt Disney's Comics & Stories
comic debuting in July.
The new IDW
Disney
line will feature stories from the best creators of Disney comics from around the world (most of the current new
Disney
comic book material is generated in Europe where the Disney characters, especially the Ducks, remain extremely popular). The names of the creators, whose work will be appearing in the IDW
Disney
comics, will be familiar to those who enjoy post-Barks
Disney
comics: Daan Jippes, Romano Scarpa, Casty, Giorgio Cavazzano, and Al Taliaferro. The first issues of each of the four IDW
Disney
comic book series will all be 48 pages long and retail for $3.99. Subsequent issues will be 40 pages long with the same cover price.
In a move designed to appeal directly to Disney collectors, each issue will have two regular covers along with variants depicting the characters in one of the Disney theme park attractions. April's
Uncle Scrooge
variant will feature an Adventureland theme, while the May books will have Tomorrowland themed variants, July will see Fantasyland covers, and August's theme will be Epcot (June's is so special IDW isn't revealing it yet).
The IDW
Uncle Scrooge, Donald Duck
, and
Mickey Mouse
series will all begin with a #1 issue, but
Walt Disney's Comics & Stories
, one of great classic comic book anthologies of all time, will maintain its original numbering with the IDW series beginning with issue #721.