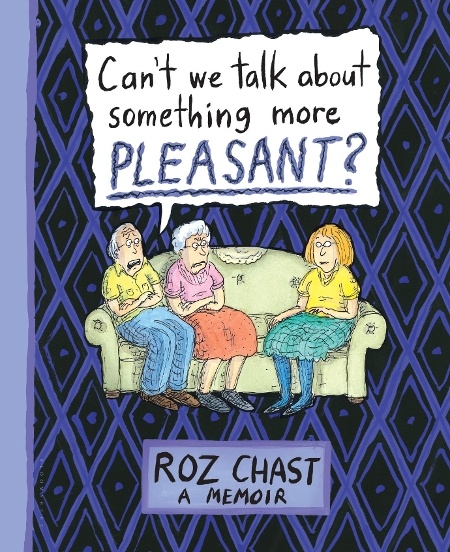 Female creators or co-creators accounted for six of the top 20 titles on the chart of the "Top 20 Adult Graphic Novels" sold in the book channel in January, based on info provided exclusively to ICv2.com by Nielsen BookScan. That includes the top two titles and three of the top seven books. Half of those six titles in the Top 20 were
Saga
volumes, co-created by Brian K. Vaughan and Fiona Staples; two were memoirs (Roz Chast's
Can't We Talk About Something More Pleasant?
and Alison Bechdel's
Fun Home
); and one was the first collection of the new
Ms. Marvel
, written by G. Willow Wilson.
And keep in mind that this list does not include kids graphic novels, currently being dominated by the
oeuvre
of one Raina Telgemeier.
The non-fiction titles on the list reflect a change we first made last month, to add them to fiction titles for a more complete look at the adult graphic novel scene in the book channel (see "
We Add Non-Fiction, Which Tops 'Walking Dead'
").
Beyond the gender mix of creators, which is changing rapidly, we're also seeing another change in the nature of the Top 20, and we're changing how we look at graphic novels to reflect that. As many retailers are now doing, we're going to break down adult graphic novels into three main categories: superhero/genre (corporate-owned characters interpreted by a variety of creators), manga (generally of Japanese origin, or from elsewhere in a manga style), and "author" graphic novels (creator-owned or –driven works). These changes will be reflected in the next issue of
Internal Correspondence
, currently at press, and in future writing on the graphic novel market.
"Author" graphic novels accounted for half of the Top 20 Adult Graphic Novels in January 2015, including three
Saga
; three
The Walking Dead;
volumes by Roz Chast, Oatmeal, and Alison Bechdel; and
Sunstone
, from Image by Stjepan Sejic. Seven volumes were Superhero/Genre (five tied to DC properties, two to Marvel properties), and three were manga. The dynamic shift in mix between these three groupings from month to month and year to year displays the shifts in taste and in relative audience size that underlay the market.
The mix between new and old titles in the Top reflects the month; January is a very light month for new graphic novel releases. Only one of the Top 20 titles, the OGN Sunstone, was a new release in January, while five were what we'd call classics, published in 2007 or before.
There were only three
The Walking Dead
volumes in the Top 20; January is at the end of the interregnum between the two halves of the new season on AMC.
BookScan Top 20 Graphic Novels in January 2015

Rank

Title

Author

Publisher

1

CAN'T WE TALK ABOUT SOMETHING?: A MEMOIR HC

ROZ CHAST

BLOOMSBURY

2

SAGA VOL. 4

BRIAN K. VAUGHAN

IMAGE COMICS

3

THE WALKING DEAD VOL. 22

ROBERT KIRKMAN

IMAGE COMICS

4

THE TERRIBLE AND WONDERFUL REASONS WHY I RUN LONG DISTANCES

THE OATMEAL

ANDREWS MCMEEL

5

NARUTO VOL. 68

MASASHI KISHIMOTO

VIZ MEDIA

6

BATMAN: THE KILLING JOKE DLX ED

ALAN MOORE

DC COMICS

7

FUN HOME: A FAMILY TRAGICOMIC

ALISON BECHDEL

MARINER BOOKS

8

ATTACK ON TITAN VOL. 1

HAJIME ISAYAMA

KODANSHA COMICS

9

BATMAN: A VISIAL HISTORY HC

MATTHEW K. MANNING

DK PUBLISHING

10

BATMAN: THE DARK KNIGHT RETURNS

FRANK MILLER

DC COMICS

11

DC COMICS: A VISUAL HISTORY HC

DANIEL WALLACE

DK PUBLISHING

12

SAGA VOL. 1

BRIAN K. VAUGHAN

IMAGE COMICS

13

THE WALKING DEAD COMPENDIUM VOL. 2

ROBERT KIRKMAN

IMAGE COMICS

14

THE WALKING DEAD COMPENDIUM VOL. 1

ROBERT KIRKMAN

IMAGE COMICS

15

MS. MARVEL VOL. 1

WILLOW G. WILSON

MARVEL COMICS

16

SUNSTONE OGN

STJEPAN SEJIC

IMAGE COMICS

17

WATCHMEN

ALAN MOORE

DC COMICS

18

ALL YOU NEED IS KILL (2-IN-1 Ed.)

RYOSUKE TAKEUCHI

VIZ MEDIA

19

SAGA VOL. 3

BRIAN K. VAUGHAN

IMAGE COMICS

20

CIVIL WAR

MARK MILLAR

MARVEL COMICS

For past BookScan Top 20 Graphic Novel lists, see the "BookScan Top 20 GN Index."