This week's top home entertainment releases include the first screen appearance of The Court of Owls, one of Tim Burton's most personal films, a really good, under-the-radar Australian horror film, the complete Metal Hurlant Chronicles, and the final three episodes of the brilliant UK period drama Foyle's War.
Theatrical Movies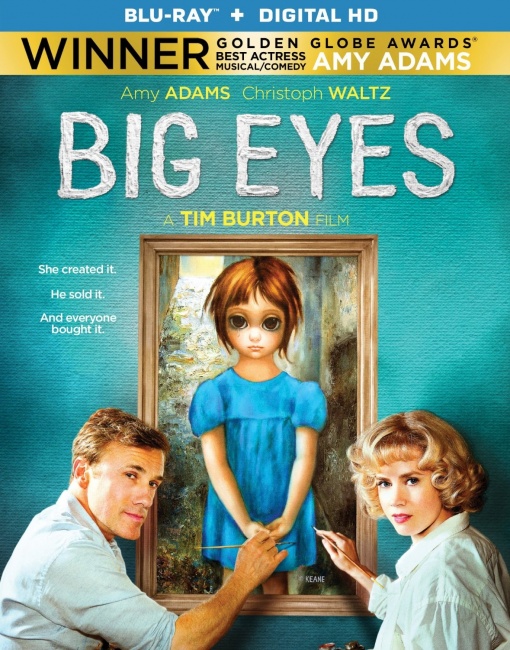 There are not a lot of big hitters due out this week, but there are some films of interest including Tim Burton's
Big Eyes
(Anchor Bay, "PG-13," 109 min., $29.98, BD $34.98), the twisted, but true story of Margaret Keane, whose paintings of big-eyed waifs were low culture icons of the 1950s. Since Burton is a connoisseur of this sort of campy pop culture, he is indeed the perfect director of this saga that stars Amy Adams, who won a Golden Globe for "Best Actress" for her work as Margaret and the always excellent Christoph Waltz as her credit-stealing husband Walter. Burton fans will want this one, which feels like one of the director's most personal films.
For horror movie fans there is Woman in Black 2: Angel of Death (Fox, "PG-13," 98 min., $29.98, BD $39.99), a sequel to the 2012 film that revived the Hammer imprint with an old school horror film set in a Victorian mansion. The house is back in the sequel, but the period has changed to World War as the creepy old domicile has been commandeered for use as a military mental hospital in this better than average sequel that stars Jeremy Irons and Phoebe Rice.
Even better for those who like classy psychological horror is The Babadook (Shout Factory, "Not Rated," 93 min., $14.93, BD $29.98). Written and directed by Jennifer Kent, this movie is not for those who like their horror films grisly, but it does deliver some real shocks along with its steadily rising tide of psychological tension in a story so good that it earned the film a sterling 98% positive rating on review aggregator Rotten Tomatoes.
But for many fans this week's top release is the direct-to-DVD animated movie
Batman vs. Robin
(Warner Bros., "PG-13," 72 min., $19.98 ,BD $24.98), which is a sequel of sorts to last year's
Son of Batman
animated film, which was largely based on Grant Morrison's
Batman
run in which the Dark Knight had to deal with his estranged son Damian. The father/son dynamic from the Morrison
Batman
run is very much present in the generically-titled
Batman vs. Robin
, but scenarist J.M. DeMatteis has also incorporated elements of Scott Snyder's
Court of Owls
storyline. In some ways this is very good news since
The Court of Owls
is the best thing that has happened to
Batman
comics in years, but this reviewer just wishes that Warner Bros. had given Snyder's
Court of Owls
story arc the same care they lavished on their animated adaptation Frank Miller's
The Dark Knight
and just done the full story straight up. But enough nitpicking,
Batman
fans will want this first screen appearance of the
Court of Owls
(they will show up in Season 2 of
Gotham
, but not till next year) in their collections, and the
Batman vs. Robin
disc comes with an excellent special feature dedicated to
The Court of Owls
as well as a sneak peak at
Justice League: Gods & Monsters
, the next DC-based animated film in the series.
TV on DVD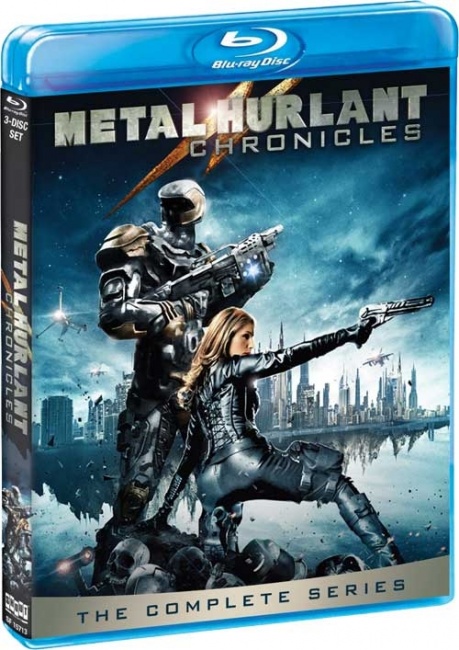 There are a number of items of interest to viewers due this week including the DVD debut of
Metal Hurlant Chronicles: The Complete Series
(Shout Factory, $19.97, BD $34.93), which contains all 12 episodes of the short-lived science fiction TV series that was based on the
Metal Hurlant
comic book anthology magazine and aired here on the SyFy cable channel in 2014. All 12 episodes in this anthology series are based on stories that originally appeared in comic form, and the creators involved include Richard Corben, Geoff Johns, R.A. Jones, Alejandro Jodorowsky, and more.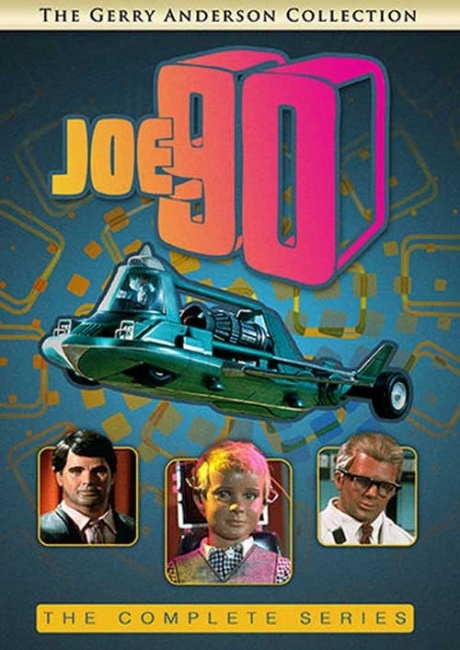 Also new (at least here) is
Joe 90: The Complete Series—The Gerry Anderson Collection
(Timeless Media, 750 min., $29.93), the 30-episode 1960s British sci-fi series created by Gerry and Sylvia Anderson that followed such prime examples of Anderson's Supermarionation wizardry as
Thunderbirds
and
Captain Scarlet and the Mysterians
.
Another item of interest to a serious swath of fandom is Teen Titans Go! Season 2, Part 1: Appetite for Disruption (Warner Bros., 286 min., $19.97), which collects 12 episodes of the anime-influenced DC Comics-based series.
Two superb drama series from the UK are making their North American debuts on Tuesday including the Golden Globe-nominated miniseries The Missing (Starz, 480 min., $44.98, BD $54.99), a complex 8-episode series about a family's nearly decade-long search for a son who mysteriously disappears while on vacation in France.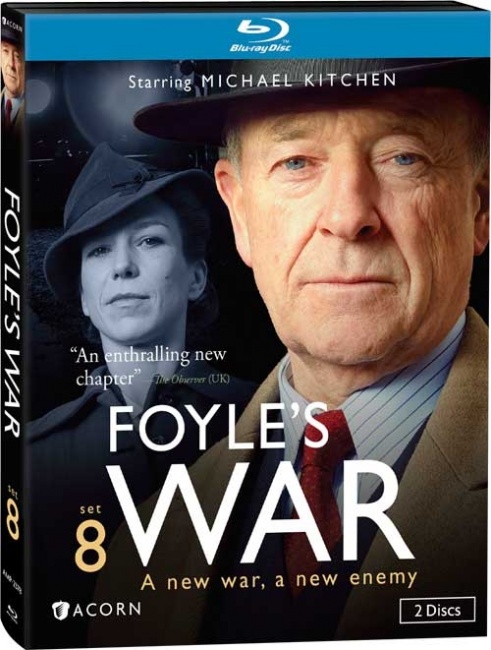 Readers of this column will recall how much this reviewer has enjoyed the Anthony Horowitz-penned
Foyle's War
series, so it is with some sadness that I report that Tuesday will see the U.S. release of
Foyle's War: Set 8
(Acorn Media, 276 min., $49.99), which contains the final three movie-length episodes of the series that stars Michael Kitchen and Honeysuckle Weeks. The silver lining in this dark cloud is the fact that all three of the final
Foyle's War
episodes are up to the series' very high standards. Set in postwar Britain (1946-47), these latest episode seamlessly integrate the social issues of the day with compelling mysteries that manage to reflect many of the moral quandaries of our modern world.
There is also a vintage release of interest to geek viewers, Thriller: The Complete Collection (VEI, 2860 min., $57.99). This great series, which was hosted by Boris Karloff and featured some of the best actors, directors, and photographers in Hollywood, was released in 2010, but in a set that listed for almost three times as much.
Other vintage releases include the military drama JAG: The Complete Series (Paramount, $119.98), which contains all 267 episodes of the decade-long series, and the children's classic Little House on the Prairie, Season 5 Deluxe Remastered Edition (Lionsgate, 1260 min., $24.99), which presents the frontier series in a new high-def edition.
Anime
It is a very light week for new releases with only The Pet Girl of Sakurasou Complete Collection (Sentai Filmworks, 600 min., Subtitles Only, $69.98, BD $89.98), which collects the 24-episode JC Staff series from 2012 that is based on the light novel series by Hajime Kamoshida about a dorm full of misfit art students.
The only other release is the Noir Complete Collection (Funimation, 650 min., BD $49.98), which presents the stylish 2001 anime series from Bee Train about two young female assassins, one of the earliest and best exemplars of the "girls with guns" genre.
Tom Flinn
The opinions expressed in this column do not necessarily reflect those of the editorial staff of ICv2.com.