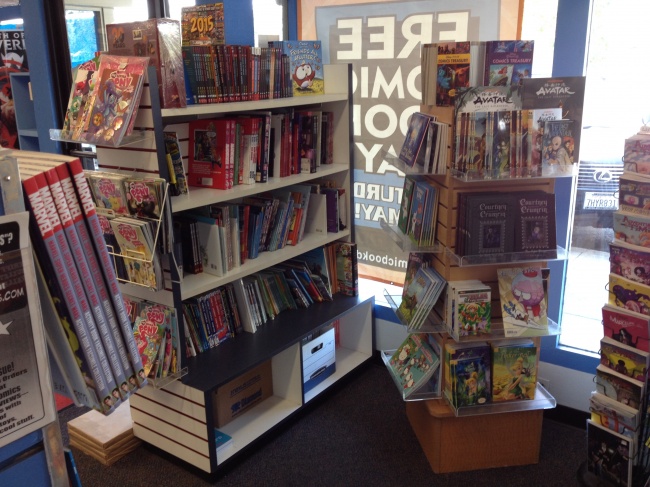 Joe Field, the owner of Flying Colors in Bay Area suburb Concord, California, is a pioneer in comics retailing, as the founder of Free Comic Book Day and a co-founder of ComicsPro. But it's his reputation for running a family-friendly store that led us to talk to him during our "Grow the Business with Kids" event.
Click any image for larger view.
Tell us about how you market to kids; do you have a separate display area?
We do have a section that is what we call an all ages section rather than a kids section. That features a fair number of bestsellers. Raina Telgemeier books, Jeff Smith, Kazu Kibuishi—there's a whole lot of stuff in there that is very attractive and sells very briskly for us. It's sort of the magnet area for bringing in new families, parents bringing in their kids and wanting to see what's there for them that is age appropriate. Granted, something like Jeff Smith's Bone is not just for kids, it's for everybody, but it's still an anchor in that section and still sells quite well. It's an area of the store that is up near the front door.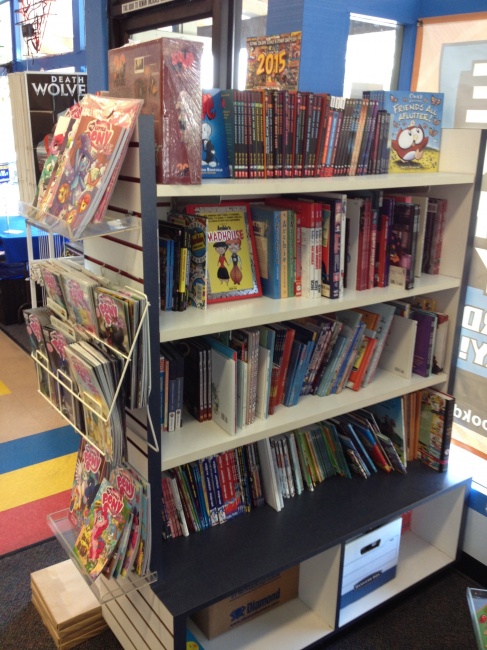 We have different sections of the store, some are on tile, others are on carpet. That all ages section is a good chunk of that front corner of the store that is on carpet so we're able to bring people in and when they ask 'Where's something for my child?' or 'Where's something for a younger reader?' we can say everything on this side of the carpet is age appropriate. We're also very straightforward and open about making recommendations and leading readers of all ages to things that they're going to want to come back to. We're not passive, especially when kids come into the store with their parents wanting to find something.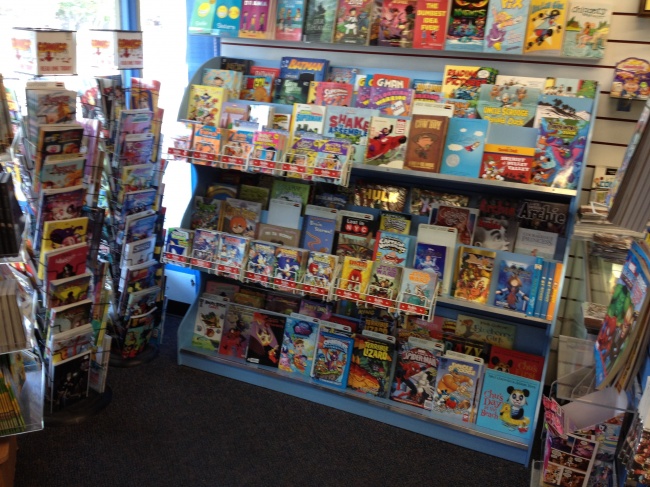 Do you have floppies in your all ages area in addition to graphic novels?
We have two spinner racks of comics in the all ages section. We also have some of those Archie Digest holders that they generally put into grocery stores, so we have some of those that are great for holding the Sonic Archives and some of the digests that different publishers are doing, including Archie.
What about the kids manga, like Pokemon? Do you rack those in the kids area, or with the manga?
They're in the kids area as well.
Within the all ages area, do you segment by age at all?
The titles are not necessarily arranged by age, they're arranged by content and genre essentially. There's a nice Archie section, superhero-related stuff, and there's some of the more independent voices. We have everything with as much of a full face display as we can give, and we do a lot of rotating of stock within that.
But we're finding that there are certain series that are strong anchors for younger readers like the books from Raina Telgemeier, Bone, Owly, Korgi, Amulet and Explorer are some of those as well. And there's other media-friendly stuff like the Papercutz Disney Fairy books that do very well for us as well as Ninjago and other LEGO-related stuff.
Besides what we're doing right in that corner though, I think it's the approach that we take to the entire store, and that is that I've never hung up a poster that has blood splatter on it or that has sexually suggestive stuff. We keep the store very family-friendly for everyone. It's not that we're not selling things for a mature audience, we just don't push that in the face of people who come in because we are in a suburban area. It is an area with a lot of families and we want the store to be accessible to everyone.
It sounds like the philosophy is that adults won't leave because they see a kids area but parents with kids might leave if they see an area that looks too adult.
Exactly, and we're famously known for being right next door to a Baskin-Robbins on one side and we have a liquor store on the other side. So we have adults coming from one end and we have families coming from the other side. It's really about being as attractive to as wide an audience as possible.
And I think over the years events that we've done and some of the outreach that we do in schools and libraries has been very helpful in letting the community know that this is a good place to come for good reading material.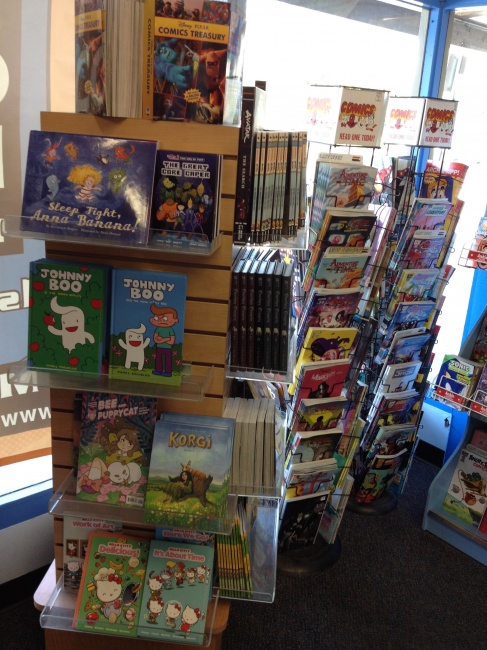 In addition to Free Comic Book Day, do you run other events through the year?
Yes, we do. With Free Comic Book Day we make sure it's not a grab and run situation for people coming into the store. It's very actively managed and we bring on extra staff so that every person coming through the line is shown books targeting their age group and interest group. We have, I think, a little bit better handle on making sure the appropriate material and engaging material goes to each reader so that they'll have as good an experience as they can and will want to come back.
Just 10 days ago I took cartoonist Jeff Bonivert to the Concord Youth Community Center and we did a three-and-a-half hour class on how to make a comic book which included the history of comics, having the kids do their own and sort of guiding them through the process of how to read a comic book.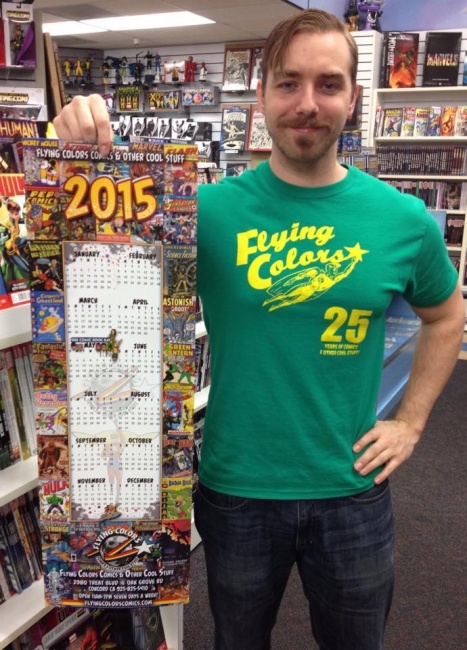 Every year we do a poster calendar that's a comics-related poster calendar. We stole the idea from Tower Records which used to do a calendar every year that was 12" by 36" and it would have whatever music images on it. When Tower went down we thought that would be a nice little spot for us to fill so we've been doing this exclusive calendar for our store that goes into schools and libraries, and other businesses. We distribute 6,000 to 7,000 of them a year. We've been doing that every year since 2007 and now it is something that's looked forward to by a lot of different people, not just the people who come into the store, but by the schools because we're dealing with media specialists and librarians in the county library system.
The calendars mention that every Wednesday is a new releases day, we have Free Comic Book Day on the first Saturday in May, and to check our site for more event information. It's a nice little calling card that's much better than a four by six postcard or a paper flyer. It's not an inexpensive thing for us to do but I think it's worthwhile outreach for the community.