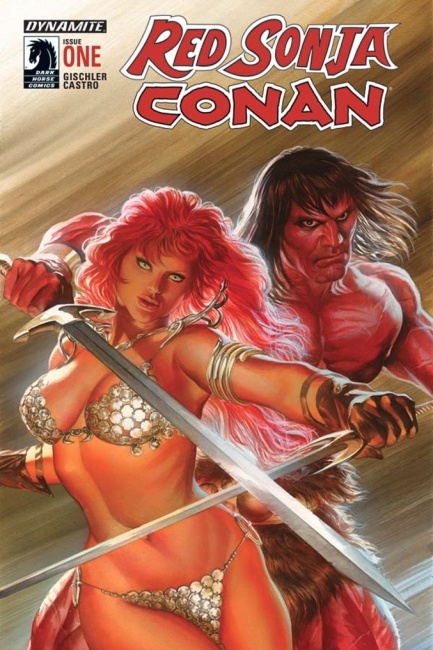 Comics' leading barbarian power couple will reunite this August in Dynamite Entertainment's crossover miniseries
Red Sonja/Conan.
Dark Horse Comics launched the crossover in January, which was written by Gail Simone and Jim Zub (though it was initially announced as Simone and Brian Wood in 2013, see "
Brian Wood & Gail Simone on 'Conan/Red Sonja' Crossover
"
). Now Dynamite follows with its own chapter, written by Victor Gischler and illustrated by Roberto Castro (see "
'Justice, Inc.' Plus 'Red Sonja/Conan' Miniseries
"
). This miniseries sees the She-Devil with a Sword and the Cimmerian reunited as captains of mercenary companies leading the fight against an evil sorcerer. The pair is unaware that an evil shadow from their previous adventure together hangs over this new encounter.
Red Sonja/Conan
#1 will feature a main cover by Alex Ross, with an artboard and virgin art versions offered as incentive variants. Additional covers by Ed Benes and Roberto Castro will also be available.
Dynamite is offering retailers full returnability on issue #1 of
Red Sonja/Conan
if they meet or exceed their orders for Dark Horse's
Conan/Red Sonja
#1.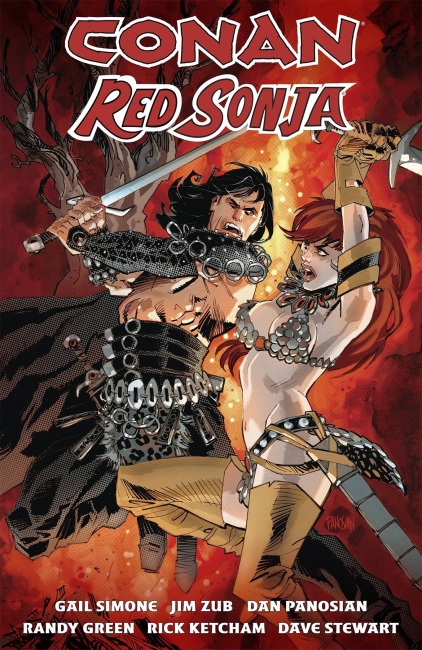 The Dark Horse
Conan/Red Sonja
adventure has been collected in a hardcover releasing on July 29, just ahead of the Dynamite August 5 launch. MSRP is $19.99.
See gallery below for
Red Sonja/Conan
#1 cover gallery and three preview pages.