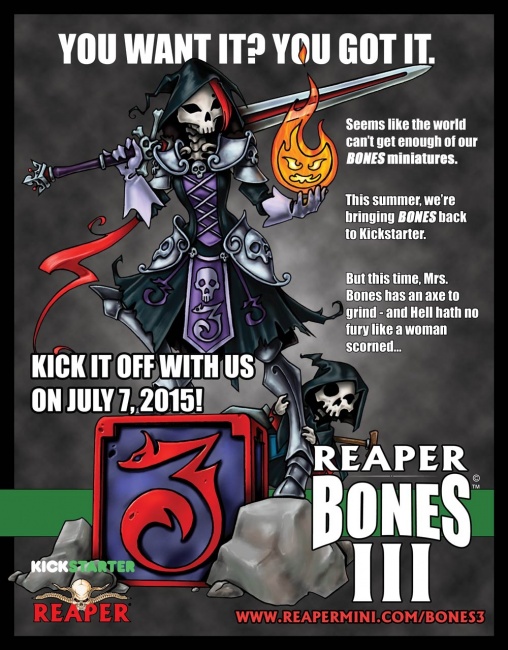 Reaper Miniatures has launched its third
Bones
miniatures Kickstarter campaign, and like the previous two this one reached its funding goals almost immediately, and is well on track for breaking into the coveted Top 10 (see "
Top 10 Tabletop Game Kickstarters
").
The Reaper Bones III 2015 Core Set currently includes 44 fantasy character models, including such mainstays as humans, elves, orcs, and goblins, 16 reptile-men, 4 giant spiders, 4 giant centipedes, 5 yeti, and 6 characters from Reaper's Savage Worlds line, as well as a six-piece "torture chamber" set. Additional models may be added to the set depending on the funding levels reached. A number of larger models are also available as add-ons.
Reaper plans to ship the new miniatures in four waves, starting in August of 2016. The earliest backers of the campaign will be shipped during the first wave, with product being sent to later backers as each wave is finished.
The campaign has already broken half a million in the first day, with 18 days remaining in the campaign. The first two Bones Kickstarter campaigns each gathered over three million dollars worth of pledged support. The last campaign, for Bones II, started off slightly slower than Bones III—it took three minutes to reach the funding goal—but surged to over $1M in the first 24 hours (see "'Bones II' Tops $1 Million").
While it is too early to make reliable projections on the project's progress, the Kickstarter campaign tracking website Kicktraq calculates that, based on current pledges, the campaign has the potential to break $10M before it ends.