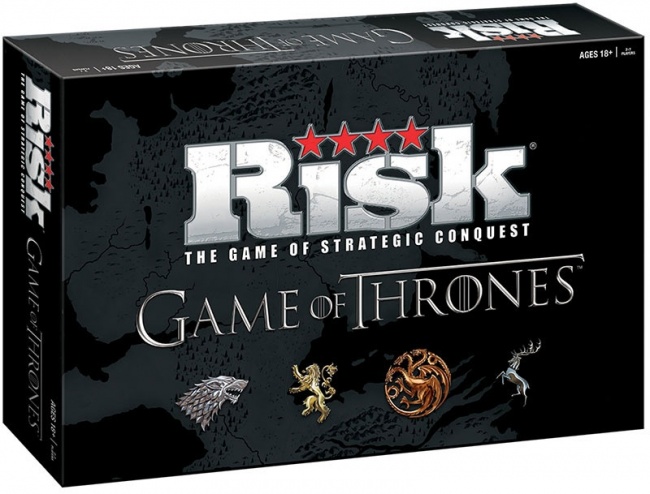 USAopoly has released final product images and variant game play details for the
Risk: Game of Thrones
war game it announced at Toy Fair in February (see "
'Game of Thrones,' 'Mass Effect,' 'Jurassic World,' More
"). The game will release in August.
In Risk: Game of Thrones, like the classic version, players compete to control the map by building armies and attacking their rivals. But this edition features a number of game play variants.
Two game boards offering three modes of play: two players can compete over Essos, three to five over Westros, or both boards can be combined for seven player games.
There are 28 Character Cards which offer special abilities to their Houses; and other cards provide bonuses in battle or opportunities for victory points.
Components include:
2 separate game board maps: Westeros & Essos
315 Army Pieces represent noble Houses: Stark, Baratheon, Lannister, Martell, Tyrell, Targaryen & Ghiscari (generic soldier army piece represent 1 unit)
7 Seats of Power represent noble Houses
7 Player Boards represent noble Houses
188 Cards include Territory, Objective, Character & Maester cards
63 Special Unit Tokens for expert units like militias for surprise attacks
75 Gold Dragon Coins
9 Dice
Instructions Booklet
The game will be packaged in a deluxe game box with silver-foil stamps of all seven House sigils on the cover and individual army boxes for each House. Risk: Game of Thrones is for 2 -7 players, ages 18 and up. MSRP is $74.95.
(See gallery below for component images.)