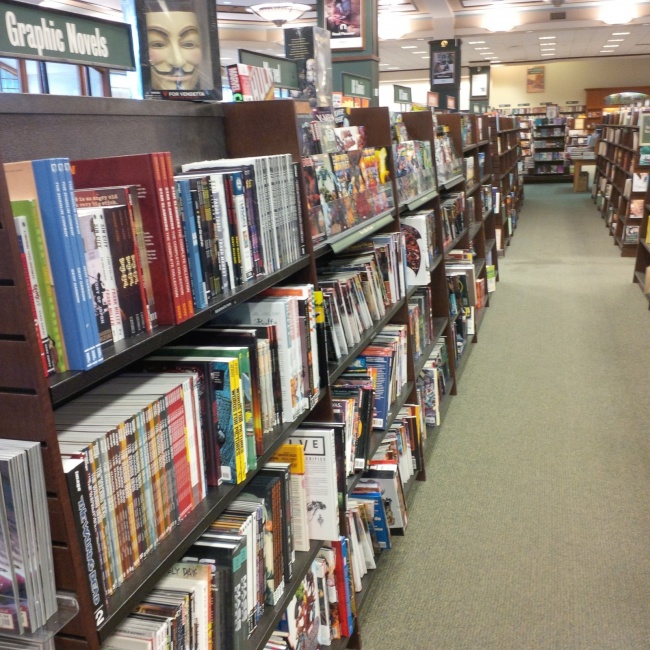 In a press release that coincides with the San Diego Comic-Con, Barnes & Noble, the nation's largest bookstore chain, announced that it is doubling the size of the graphic novel and manga sections at its bookstores nationwide, a move that it has been implementing for some time, and which did not escape the scrutiny of ICv2.com (see "
Barnes & Noble Increases Graphic Novel Space
").
Barnes & Noble's VP of Adult Trade and Children's books, Mary Amicucci cited "the tremendous growth in Graphic Novels and Manga in recent years," as the reason the company "is so excited to roll out an expanded selection for our customers to explore at all stores nationwide." The expanded space will allow B&N to increase its selection of new releases and also keep more backlist titles on the shelves.
In addition to committing to use additional signage to spur graphic novel sales, Barnes & Noble also announced a number of graphic novel and manga "events" that will be held in every store in the chain including DC Comics Days (July 8-12), Manga Mania (July 19), and Fangirl Friday (July 24). These events will feature promotional pricing with customers able to get three DC graphic novels for the price of two during DC Comics Days for example.
After a dip caused by the demise of the Borders bookstore chain, which had been a big player in the rise of manga sales in the U.S., graphic novel and manga sales in bookstores have rebounded, driven, by (among other factors) the increasingly high profile of comic book/graphic novel properties in both movies and television. Books a Million, now the nation's #2 bookstore chain, recently cited increasing manga sales at its stores (see "Manga, Strategy Games Grow for Book Chain").