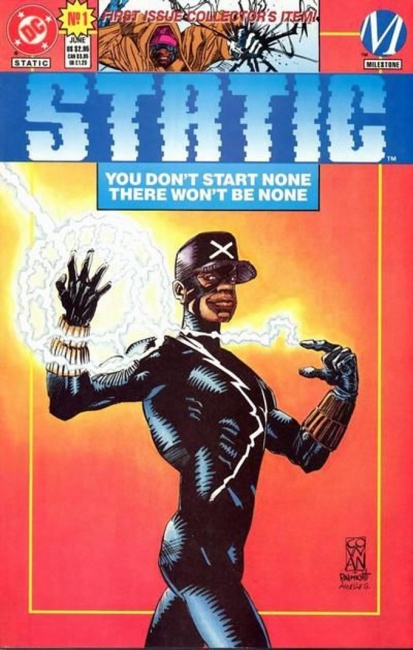 Comic-Con News:
At the San Diego Comic-Con Milestone Media co-founder Derek Dingle announced that the Dakota universe heroes like Hardware, Static Shock, and Icon will return to the DC Comics as residents of Earth-M, a part of the DC multiverse. Back in the 1990s the original Milestone Media comic books featuring those heroes were published by DC, so the recently formed Milestone Media 2.0 (see "
Milestone Returns as Milestone 2.0
") is returning to the fold.
While the Milestone characters will have some adventures on their own, there will also be some integration with characters from the DC universe. In addition the books will feature behind-the-page cooperation too with DC's Jim Lee drawing a story written by Milestone 2.0's Reginald Hudlin, while Milestone's Denys Cowan illustrating a story written by DC's Geoff Johns.
The current plan is for DC to publish two hardcover graphic novels per year featuring old and new Milestone characters in socially relevant adventures as well as an unspecified number of miniseries and one-shots. Like the original Milestone books, the new volumes will likely carry both the Milestone and DC logos. Specific projects, creative teams, and release schedules will be forthcoming in the months ahead.