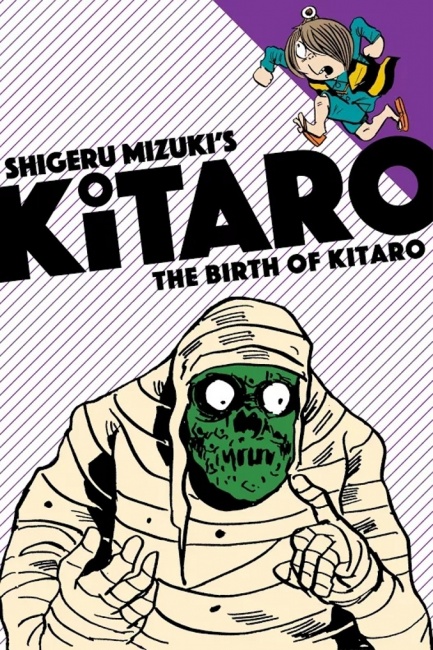 Comic-Con News:
At San Diego Comic-Con International, ICv2 caught up with Drawn & Quarterly Managing Editor Tracy Hurren to get an update on the publisher's planned releases.
"
A big thing we have coming up is a big Kitaro series that we're launching starting in March," Hurren said. "It'll be a seven volume series which includes some of the strongest Kitaro stories. It'll be a much smaller manga-size format." The 176-page 5" x 7.5" paperback is $12.95.
D&Q has released many volumes of manga-ka Shigeru Mizuki's Kitaro work. The publisher will be releasing a Birth of Kitaro mini-comic as part of Diamond's 2015 Halloween ComicFest (see ""Titles for 4th Annual Halloween ComicFest Announced").

Mary Wept over the Feet of Jesus will include nine biblical stories about prostitution. "It's got a real hook in there that I won't reveal," Hurren said. "It's great. There are extensive notes in this one, too. If you're familiar with Paying for It, you will know about his extensive notes." Release is planned for Spring 2016.

Though specific details were not finalized, Hurren also shared plans for the next Lynda Barry title. "We're also going to have the second volume of Lynda Barry's Everything series. It's about 1982-86, and it'll also include her Naked Ladies, Naked Ladies, Naked Ladies."

Big Kids. "It's his first work that has not been previously serialized," Hurren said. The story follows a troubled teenager through his transformative high school years. After his uncle is kicked out of the family's basement apartment, college student April moves in. The boy begins hanging out with April and her "big kid" college friends, and quickly loses interest in normal high school rebellion. The 120-page hardcover has a MSRP of $16.95.

Panther is due in March. "It's a little bit darker than his other works,' Hurren said." It deals with mental illness and issues around that. It's a narrative about a young girl and a cat. But it's similar to his other work in that it's super lush, vibrant watercolors. It's stunning." The 120-page, full color hardcover is $24.95.

Beverly from newcomer Nick Drnaso. "He was actually in Ivan Brunetti's comics class which is how we discovered him," Hurren shared. "Chris Ware also recommended his work to us, so it's hard to ignore recommendations like that. It's phenomenal. Normally with a younger cartoonist, their voice is not nearly as developed. And their ability to tell a story, they don't have the experience of an older writer. But somehow for such a young man, he's crafted these wonderfully touching, real, suburban stories that are just incredible." The 136-page paperback is due in February. MSRP is $19.95.

In the spring, Hot Dog Taste Test by Lisa Hanawalt will release. "It'll be kind of a companion book to My Dirty Dumb Eyes," Hurren said. "It's a lot of her food-related comic strips that she did for Lucky Peach. She'll be creating some new comics to go in it as well. I think Tuca the Tucan will make an appearance."

Hurren also shared details on a distribution deal for a new title from D&Q's recently retired publisher Chris Oliveros. "He's publishing his first book that he's been working on for the past 25 years. So he won't actually let us publish it but we are distributing it. It's called the Envelope Manufacturer. It's about a small business owner and his struggles."

Highlights from D&Q's fall releases include Kate Beaton's Step Aside, Pops: A Hark! A Vagrant Collection and Adrian Tomine's Killing and Dying (see "New Titles From Shigeru Mizuki, Guy Delisle, More").

Click any image for larger view, or click on the gallery below.