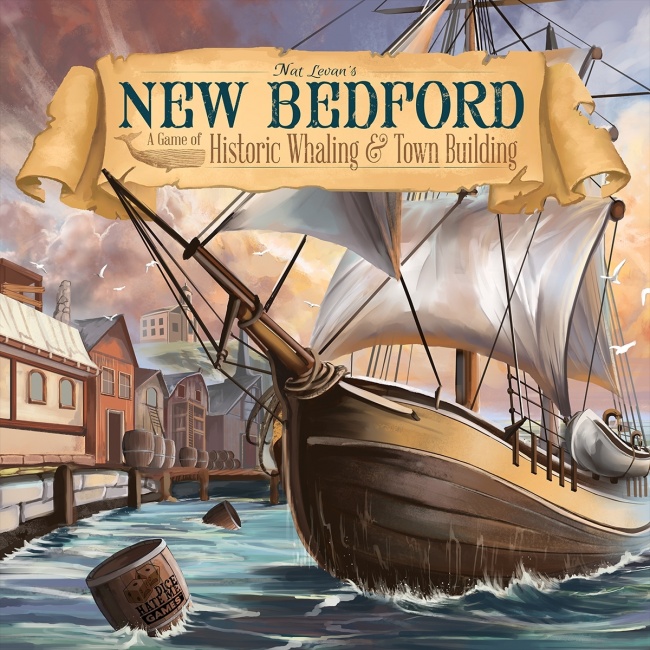 Dice Hate Me Games will release
New Bedford: The Game of Historic Whaling & Town Building
to trade in late Q2 2016. The game is currently seeking funding on Kickstarter.
(Click either image for larger view.)
The worker placement/resource management game is set in the mid-1800s in the Massachusetts town of New Bedford. Over 12 rounds, players gather resources to add buildings with new actions to the community, and then launch ships to go whaling. Players must balance risks and timing to earn more points by catching the biggest whale possible, since the longer they stay on the water, the harder the whales are to catch.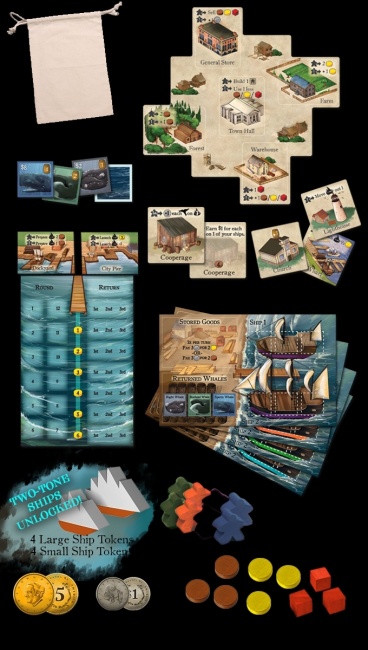 The box contains a "Town Square" board, 20 double-sided location tiles, 76 whale/ocean tiles, a whaling board and tiles, 4 player boards, 8 worker tokens, 4 large ship tokens, 4 small ship tokens, various wooden resource pieces (wood, food, brick), coins, and a canvas bag. The game is for 2 - 4 players, ages 13 and up. MSRP is $30.00. Various stretch goals from the Kickstarter will be gathered in a separate expansion to be released at a later date.
ICv2 asked Dice Hate Me Games/Greater Than Games Game Development Director Chris Kirkman about possible concerns retailers and buyers may have about the game's theme, which, while historically accurate, depicts an industry which is considered controversial by modern standards.
"Game designer Nat Levan and I have been talking about the theme and its possible repercussions since our very first conversation about Dice Hate Me Games publishing New Bedford," Kirkman said in an email statement. "Nat designed the game specifically to honor the history surrounding the town of New Bedford and this pivotal period in American history, and it ties in perfectly with the DHMG 'retro Americana' aesthetic."
"We debated for a long time whether a change in theme might be appropriate, but in the end we all agreed that to drop the rich history would be a disservice not only to the game, both to New Bedford and this time period. We realized that by not shying away from the controversial conservation issues that might arise, we could actually educate as well as entertain. The whaling mechanic in the game realistically depicts the historic depletion of the whale population, and we take the opportunity to provide more details about this and conservation efforts in the rulebook."
Dice Hate Me Games/Greater Than Games will be demoing the game at Gen Con.
The Kickstarter campaign, which has already surpassed its $25,000 goal, has raised more than $38,000 from almost 900 backers, with 21 days remaining.