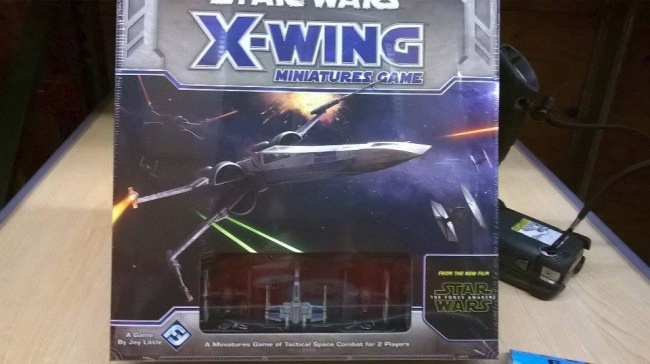 As
Star Wars
fans swarm retail chains looking for
Star Wars: The Force Awakens
product on the shelves before the official September 4 release date, some images of Fantasy Flight Games'
Star Wars: X-Wing Miniatures Game
Starter Set
have appeared on
reddit
, without any information as to their source.
The product has not been announced by Fantasy Flight, but at Gen Con, ICv2 spoke with FFG's Senior VP of Communications Steve Horvath, and when asked if the company had announced all its major Star Wars releases through the end of the year, Horvath said "no" (see "'Star Wars: X-Wing' Expansions; 'Imperial Assault' Pics").
(Click any image for larger view.)
Meanwhile, Star Wars toys and collectibles site RebelScum has been documenting breaches of Disney's official Star Wars: The Force Awakens product release date, "Force Friday" September 4 (see "May the 4th Round-Up"), while also gleefully posting close-ups of pictures and details of successful (and sometimes not successful – in the case of Target) purchases of the embargoed merchandise.
Examples from the last few weeks include: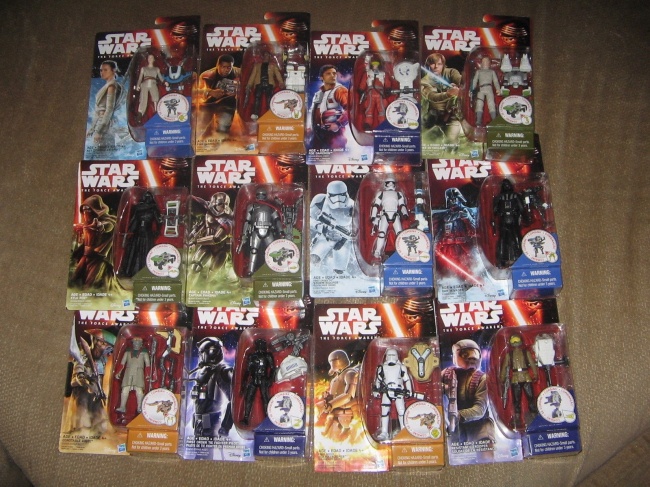 Complete set of Hasbro Star Wars: The Force Awakens Action Figures purchased from a Walmart in New Boston, Ohio (August 13)
Hasbro Star Wars: The Force Awakens Armor Up Figures found at a Walmart in Dallas, TX (August 15)
The Force Awakens Millennium Falcon (Micro Machine playset) was found at a Walmart in Guatemala, (August 15)
Lego: Buildable Figures 75108 Clone Commander Cody on the shelf at Target in Springfield, PA (August 15) – purchase was rejected at the register


Spin Master: Air Hogs X-Wing found at multiple Walmarts for sale: Altamonte Springs, Fl and Watertown, WI (August 17)
And possibly the first street date breach, a Micro Machines -The Force Awakens: Millennium Falcon purchased from Toys "R" Us in Maple Ridge, British Columbia (August 6)
See some of the alleged Star Wars: X-Wing Force Awakens Starter Set pictures in gallery below.