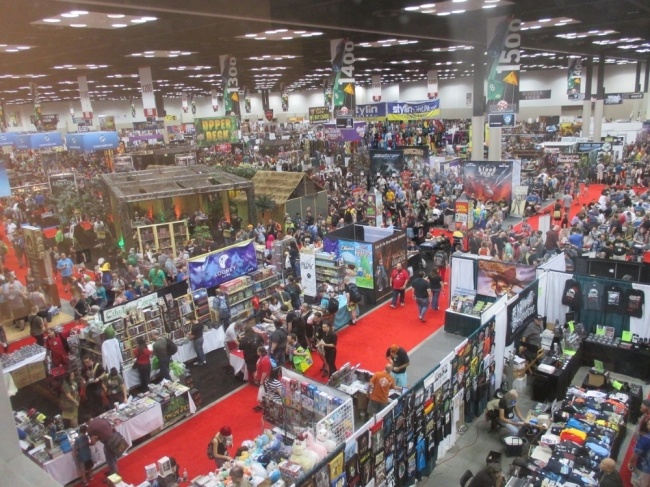 Gen Con 2015, which wrapped earlier this month, was bumping up against the limits of the available space in the Indianapolis Convention Center, its home since 2003. This isn't the first time a growing Gen Con has bumped up against the limits of space at the Indianapolis Convention Center. By 2005, the third year after moving to Indianapolis from Milwaukee, Gen Con was already maxing out the facility (see "
Gen Con Wraps Third Indy Convention, Maxing Out Venue
"). A major expansion, nearly doubling the space to over 1.3 million square feet, was completed in 2011. But since 2012, when attendance hit 41,000 unique attendees (see "
Gen Con Nets 41,000 Unique Attendees
"), attendance at the annual summer tabletop game show has grown by 50%, to 61,000 this year (see "
Gen Con Up 9%
").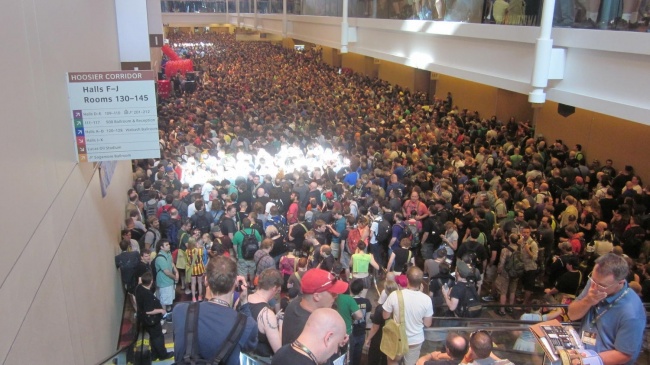 This year, while traffic moved well for the most part, there were clearly some areas that are going to require attention if attendance grows next year. One was the set-up for the opening of the exhibit hall each day. There are always limited copies of some new games at Gen Con, as exhibitors expedite delivery of upcoming release to premiere at the show. Attendees that want to ensure they get one of those limited copies arrive before the exhibit hall opens, and a large crowd waits in the lobby area outside the exhibit hall.
While the crowd was generally good-natured and Gen Con and convention center employees did a good job of keeping behavior reasonable, a safer way of handling the opening of the hall would be to have a queuing area. But that would take space that is not available in a maxed out convention center. The ReedPOP pop culture show C2E2 uses interior space in the mammoth McCormick Place in Chicago for its queuing area. San Diego Comic-Con creates temporary queuing areas under tents outside for its 6,000-seat Hall H, at times the most popular spot at the convention, and lines sometimes extend beyond the tents for another half mile along the waterfront (not a bad place to wait). But neither of those options is really available in Indianapolis right now due to a lack of space inside and unpredictable summer weather outside. That's just one symptom of broader stresses.
Another is the handling of lines to buy product in the exhibit hall. Those lines take up significant amounts of space in the aisles, which results in crowding. Gen Con does not generally use the space along the outer walls of the exhibit hall as San Diego Comic-Con does, which means they must wrap booths, limiting options. Fantasy Flight Games' line was capped at least once by the fire marshal, SVP-Communications Steve Horvath told ICv2, to prevent congestion in the aisles.
Larger numbers of convention staff could help manage the lines, but there's a limit to what can be done. Again, more space (for wider aisles) is the answer, but it's not available.
All the space in the convention center is being used. Gen Con hosted 412 exhibitors this year, up 30 to 40 to a new record high, Gen Con Senior Marketing Manager Jake Theis told ICv2. And on the event side, Gen Con also broke records, hosting over 15,000 gaming events.
For game companies, one of the ways Gen Con is controlling demand for exhibit and event space is with higher prices. Exhibitor prices for 2015 were up an average of 14.5% over 2014 prices. And event space costs went up even more, by 25%. We asked Gen Con about the increase. "The price increased for event space by 25% in 2015 to meet the growing demand for space," a spokesperson told us. "Finding ways to balance growth with demand is an on-going process."
Some exhibitors have eliminated exhibit hall space and are now concentrating on events. Companies that have totally left the exhibit floor over the past five years or so include Wizards of the Coast, Konami, WizKids, and Rio Grande Games, all significant companies.
But even with those moves of major exhibitors off the floor, there's still a lot of pressure for exhibit space. For 2016, Gen Con took the controversial step of eliminating the on-site renewal option for companies with less than 30 "Priority Points," the equivalent of three years of buying a 10' x 10' booth. Instead those companies will go into a different process in the fall, along with new companies that want to exhibit. This was causing considerable concern among newer companies who wanted to be sure they had a continuing presence at the show.
We asked about that change in policy. "Gen Con chose to create this new policy to help manage the growth of the Exhibit Hall, while continuing to offer Entrepreneurs' Avenue booth space for first-time exhibitors, without creating an oversell situation," a Gen Con spokesperson said. "Our goal is to allow both the most and the best exhibitors the chance to take part in Gen Con.
For more from Gen Con on this issue, check out our interview with Gen Con Senior Marketing Manager Jake Theis about the space issues and possible solutions (see "ICv2 Interview: Gen Con's Jake Theis").