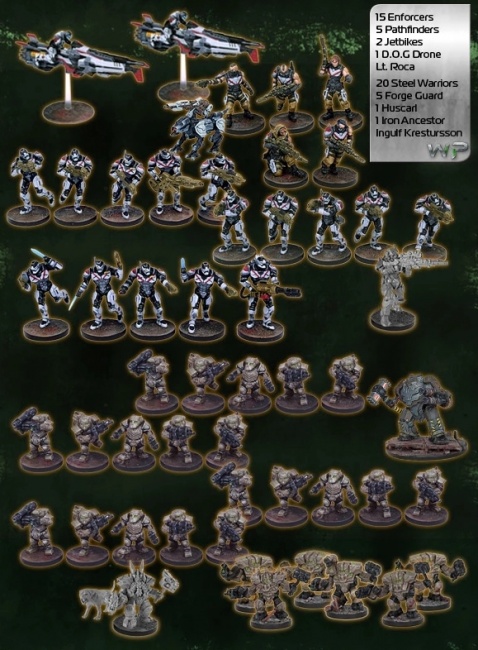 Mantic Games has announced
Warpath,
a new sci-fi battle game set in the world of
DreadBall
and
Deadzone,
for 2016. The game is currently seeking funding on Kickstarter.
Warpath is a two-player, mass-combat strategy miniatures game where players battle with forces of 28mm miniatures composed of infantry, vehicles and heroes. The game includes two rule sets, Warpath for mass battles, and Warpath: Firefight for squad-level, tactical battles where individual soldiers' actions matter. The game utilizes the "Orders" system, which is designed to maximize tactical choices without adding rule complexity, keeping the game more fast-paced.
(Click either image for larger view.)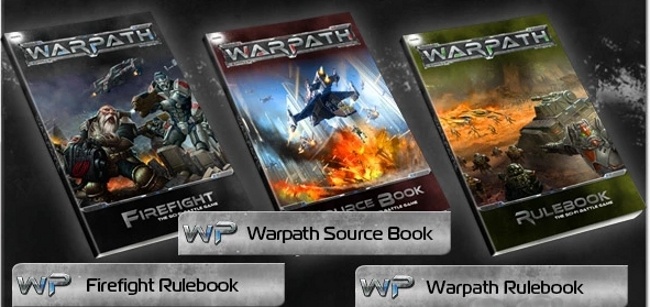 Initial offerings will include the
Warpath Source Book,
as well as separate
Firefight
and
Warpath Rulebooks,
and the
Operation Heracles
2 Player Starter Set
which includes two opposing miniatures forces. There are also
Battlegroups
for three races:
Enforcers, Forge Fathers, Veer-Myn
as well as numerous individual miniatures and vehicles. MSRPs were not announced.
Mantic's idea for Warpath has been around for a few years, but "was never done to the level we wanted it," a Mantic spokesperson told ICv2. "The first incarnation of the rules were ok, but really weren't what we were after." Mantic has developed the game system and universe through skirmish level combat in DreadBall and Deadzone. "DreadBall shows the side of the universe where normal inhabitants enjoy the entertainment of their favorite teams playing sport. Deadzone is of a more direct relation to Warpath and will have connected campaigns and events." The world has already been supplemented with a Battlezone scenery range.
The Kickstarter campaign has already attracted over $200,000 from 1,900 backers, with 18 days remaining. The campaign includes a retailer pledge level, which requires an initial pledge of $150.00 for commitment towards a $500.00 order. "They will receive a selection of the limited Kickstarter exclusive miniatures that will be funded by the campaign in addition to an increase in their normal trade discount when they place their order with for Warpath," the Mantic spokesperson said. "We have also been producing miniatures that will be only available through retailers from the campaign. This makes it so that backers at the customers' level will still have to support their local games stores for items they did not receive from their own personal Kickstarter pledge. "
Kickstarter fulfillment is estimated for September 2016.