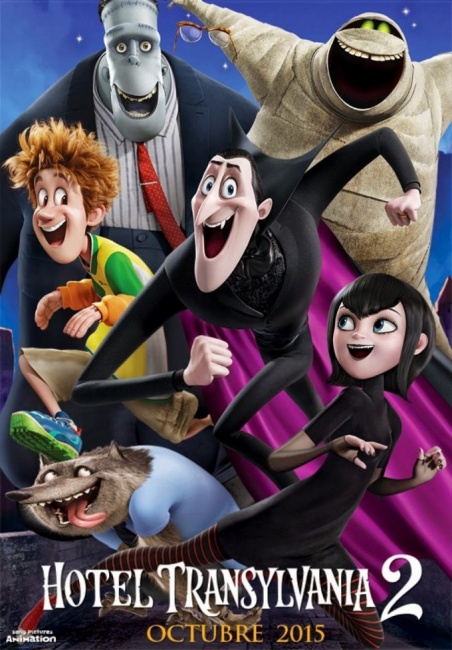 The animated sequel
Hotel Transylvania 2
topped the weekend box office, setting a new September record (not adjusted for inflation) with an estimated $47.5 million, while the Nancy Meyer's comedy
The Intern
posted a solid $18.2 million opening. The two newcomers took the top two spots on the chart and helped keep Hollywood's modest fall winning streak going with a robust 26% increase over the same weekend a year ago when
The Equalizer
debuted with $34.1 million.
But the box office news wasn't all good, Eli (
The Saw
) Roth's long-delayed, cannibalism-themed horror film
The Green Inferno
debuted weakly in ninth place, while Universal's mountain climbing disaster film
Everest
flattened out quickly as it went wide, and Roland Emmerich's gay-themed historical drama
Stonewall
bombed in limited release.
Hotel Transylvania 2
took advantage of a lack of family-oriented films in the current marketplace as it set its new September record, displacing its predecessor
Hotel Transylvania
, which bowed with $42.5 million in 2012. With a solid "A-" CinemaScore,
Hotel Transylvania 2
looks like a much needed "win" for beleaguered Sony Pictures, which hasn't had a good year at all (Disney and especially Universal have totally eclipsed the other major studios so far in 2015). The $80 million production, which is also doing well overseas, could hang on in theaters through October.
Director Nancy Meyers (
It's Complicated
) specializes in comedies for older folks, who, even more than kids, are underserved by Hollywood studios obsessed with creating four-quadrant blockbusters. Meyer;s latest film,
The Intern,
stars Anne Hathaway as the head of a tech company and Robert De Niro as a superannuated intern. Since older folks don't necessarily rush out to the multiplex the weekend a film opens,
The Intern
, which earned $18.2 million in its debut, is well-positioned for a long run given its "A-" CinemaScore from an audience that was predominantly female (62%) and definitely older (55% of the crowd was over 50).
Last week's winner the YA novel adaptation
The Maze Runner: The Scorch Trials
slipped 54% and fell to third as it earned $14 million and brought its domestic total to $51.6 million, which still trails the first
Maze Runner
film, which had earned over $58 million at this stage. Still any domestic deficits look like they will be erased by the film's overseas performance, which remains better than that of its predecessor.
Baltasar Kormakur's mountain climbing epic
Everest,
which had done very well in limited release, faltered as it expanded from an early run in IMAX and other premium large-format venues to over 3000 theaters. In its first weekend of wide release Everest could only post a mediocre $4,355 per venue average.
Weekend Box Office (Studio Estimates): September 25-27, 2015

Film

Weekend Gross

Screens

Avg./Screen

Total Gross

Wk#

1

Hotel Transylvania 2

$47,500,000

3,754

$12,653

$47,500,000

1

2

The Intern

$18,225,000

3,305

$5,514

$18,225,000

1

3

Maze Runner: The Scorch Trials

$14,000,000

3,792

$3,692

$51,685,572

2

4

Everest

$13,090,000

3,006

$4,355

$23,129,805

2

5

Black Mass

$11,510,000

3,188

$3,610

$42,608,179

2

6

The Visit

$6,750,000

2,967

$2,275

$52,260,580

3

7

The Perfect Guy

$4,750,000

1,889

$2,515

$48,871,135

3

8

War Room

$4,275,000

1,920

$2,227

$55,999,681

5

9

The Green Inferno

$3,494,000

1,540

$2,269

$3,494,000

1

10

Sicario

$1,770,000

59

$30,000

$2,350,594

2
Also faltering a bit was the Johnny Depp true crime thriller Black Mass, which slipped 49.1% it is second frame as it earned $11.5 million and drove its domestic cumulative to $42.6 million. Warners has had great success opening this type of picture in September, and Black Mass did have similar opening numbers to The Town and The Departed, both of which went on to very successful and long runs. But The Town had a second week drop of just 35%, while The Departed fell 29%, so Black Mass is already demonstrating some fallibility.

M. Knight Shyamalan's horror film comeback The Visit dropped 42% in its third frame as it earned $6.7 million and drove its domestic total to $52.3 million, not bad for a movie that cost just $5 million to produce. Columbia's urban thriller The Perfect Guy fell 51% as it earned $4.7 million to drive its North American total to $48.9 million, which means that the $12 production is already a modest winner.

The Christian-themed War Room has been one of the stealth hits of the fall. The $3 million production has now earned $56 million, which means that we should expect more movies that target the underserved faith-based community.

Eli Roth's The Green Inferno, a horror film about a group of naïve college students who go to the Amazon and are imprisoned by the indigenous tribe they are trying to help, debuted at the Toronto film festival in 2013, but struggled to find a wide release. Debuting in 1,540 theaters, The Green Inferno struggled, averaging just $2,269 per screen, well below what forecasters predicted.

But the biggest loser of the week was Roland Emmerich's Stonewall, the openly gay director's attempt to recreate an important milestone in the struggle for gay rights. Debuting in 129 strategically positioned theaters, the film averaged just $871 per venue.

Be sure to check back here next week as things really start to heat up with the wide expansion of the "buzzy" thriller Sicario, the well-reviewed drug war movie starring Emily Blunt, which landed at #10 this week despite being in only 59 theaters, plus the debut of the heavily-advertised "hard" science fiction epic The Martian starring Matt Damon, and the IMAX debut of The Walk, Robert Zemeckis' film about Phillipe Petit's high wire walk between the twin towers of the World Trade Center in 1974.