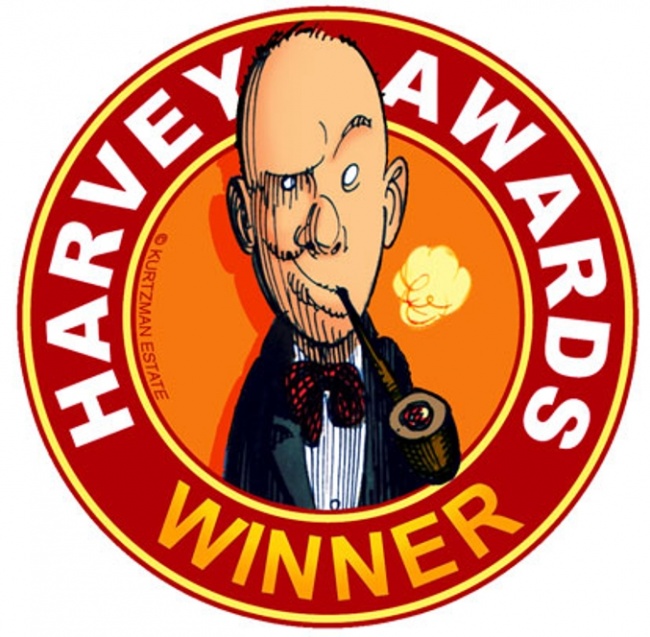 Harvey Awards voters selected winners from ten different publishers for the 2015 Awards, presented Saturday night at a banquet in conjunction with Baltimore Comic-Con, with comics from Image Comics, Dark Horse Comics, and BOOM! Studios bringing those publishers the most awards.
Comics from Image and Dark Horse each had five awards, and BOOM! three, with titles from Abstract Studios, Archie Comics, DC Entertainment, IDW Publishing, Insight Editions, Locust Moon Press, and Marvel Comics each taking one award.
Three special awards were also presented, honoring Will Eisner, Denis Kitchen, and Russ Heath.
The Harvey Awards are nominated and voted on by comics professionals.
Best Letterer: Jack Morelli, Afterlife with Archie, Archie Comic Publications
Best Colorist: Dave Stewart, Hellboy in Hell, Dark Horse Comics
Best Syndicated Strip or Panel: Dick Tracy, Joe Staton and Mike Curtis, Tribune Media Services
Best Online Comics Work: The Private Eye, Brian K. Vaughan, Marcos Martin, and Muntsa Vicente, panelsyndicate.com
Best American Edition of Foreign Material: Blacksad: Amarillo, Dark Horse
Best Inker: Danny Miki, Batman, DC Comics
Best New Series: Southern Bastards, Image Comics
Most Promising New Talent: Chad Lambert, "Kill Me" from Dark Horse Presents, Dark Horse Comics
Special Award for Humor in Comics: Chip Zdarsky, Sex Criminals, Image Comics
Best Original Graphic Publication for Younger Readers: Lumberjanes, BOOM! Box (BOOM! Studios)
Best Graphic Album Previously Published: Mouse Guard: Baldwin the Brave and Other Tales HC, Archaia/BOOM! Studios
Best Anthology: Dark Horse Presents, Dark Horse Comics
Best Domestic Reprint Project: Steranko Nick Fury Agent of S.H.I.E.L.D. Artist's Edition, IDW
Best Cover Artist: Fiona Staples, Saga, Image Comics
Best Biographical, Historical, or Journalistic Presentation: Teenage Mutant Ninja Turtles: The Ultimate Visual History, Andrew Farago, Insight Editions
Special Award for Excellence in Presentation: Little Nemo: Dream Another Dream, Andrew Carl, Josh O'Neill, and Chris Stevens, Locust Moon Press
Best Graphic Album Original: Jim Henson's The Musical Monsters of Turkey Hollow, Archaia/BOOM! Studios
Best Continuing or Limited Series: Saga, Image Comics
Best Writer: Mark Waid, Daredevil, Marvel Comics
Best Artist: Fiona Staples, Saga, Image Comics
Best Cartoonist: Terry Moore, Rachel Rising, Abstract Studios
Best Single Issue or Story: "Breaking Out", Dark Horse Presents #35, Dark Horse Comics
Harvey Kurtzman Hall of Fame Award: Will Eisner
Dick Giordano Humanitarian of the Year Award: Denis Kitchen
Hero Initiative Lifetime Achievement Award: Russ Heath