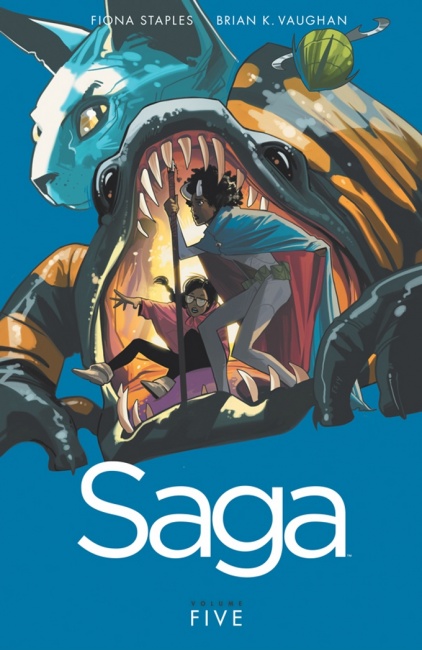 Last month (see "
August 2015 BookScan
") VIZ Media placed the first two volumes of Sui Ishida's
Tokyo Ghoul
on Top 20 Adult Graphic novel chart of bookstore sales based on information provided exclusively to ICv2.com by Nielsen BookScan, and both volumes remain on the list in September as well, but this time they were joined by the first two volumes of
One-Punch Man
, another VIZ Media title which collects the extremely popular Japanese Webcomic/manga created by an author who uses the pseudonym "One."
While it is good news for the manga market that two series (
Tokyo Ghoul
&
One-Punch Man
) posted such strong debuts, the top rungs on the chart went to the usual suspects, new volumes of Brian K. Vaughn and Fiona Staples'
Saga
and Robert Kirkman's
The Walking Dead
—the two graphic novel franchises that have been dominating GN sales in both the bookstore and direct markets for several years running. Both titles hit the bookstores in September, and it is noteworthy that
Saga Vol. 5
did outsell
The Walking Dead Vol. 24
in the bookstore market, something that reflects reports ICv2 has been receiving from direct market retailers like Brian Hibbs of Comix Experience in San Francisco, who have reported that individual volumes of
Saga
have been outselling
TWD
at their stores for quite some time.
Mention should be made of Alison Bechdel's
Fun Home
, which was #3 in August and remained in that high perch in September even outselling the new Scott Snyder
Batman
collection, which debuted in the bookstores on September 1st and finished in fourth place.
Fun Home's
performance isn't too bad for a graphic novel that debuted in 2007, and stands out as a testimony to the graphic novel sales-driving power of a Broadway adaptation. "Evergreen" backlist sellers are a constant presence on the Bookstore Top 20 Adult GN list, and this month is no exception with Alan Moore and Brian Bolland's
Batman: The Killing Joke,
Gene Luen Yang's
American Born Chinese
, Moore & and Dave Gibbon's
Watchmen
, Mark Millar's
Civil War
, and Frank Miller's
The Dark Knight Returns
all making their umpteenth appearance on this monthly list.
New titles that made this list in September include Kate Beaton's
Step Aside, Pops: A Hark! A Vagrant Collection
from Drawn & Quarterly that features more of the witty, anachronistic send-ups of canonical literary texts that put Beaton's previous volume,
Hark! A Vagrant
on the New York Times bestseller list for five straight months.
Perhaps the most surprising title on the list is
Username: Evie
, a graphic novel by the British vlogger Joe Sugg, a roof thatcher by trade whose YouTube channel has 4 million subscribers, who in Username Evie has created a very affecting story of a socially-isolated teen girl, who stumbles on a virtual reality computer world created by her late father.
The other anomaly on the list is a comic strip collection,
Pearls Get Sacrificed: A Pearls Before Swine Treasury
, which demonstrates that Stephen Pastis is one of the most popular newspaper cartoonists working today.
BookScan Top 20 Graphic Novels in September 2015

Rank

Title

Author

Publisher

1

SAGA VOL. 5

BRIAN K. VAUGHAN

IMAGE COMICS

4

THE WALKING DEAD VOL. 24

ROBERT KIRKMAN

IMAGE COMICS

3

FUN HOME: A FAMILY TRAGICOMIC

ALISON BECHDEL

MARINER BOOKS

4

BATMAN VOL. 7 HC

SCOTT SNYDER

DC COMICS

5

TOKYO GHOUL VOL. 1

SUI ISHIDA

VIZ MEDIA

6

BATMAN: THE KILLING JOKE DLX ED

ALAN MOORE

DC COMICS

7

TOKYO GHOUL VOL. 2

SUI ISHIDA

VIZ MEDIA

8

ONE-PUNCH MAN VOL. 1

ONE

VIZ MEDIA

9

STEP ASIDE, POPS: A HARK! A VAGRANT COLLECTION

KATE BEATON

DRAWN & QUARTERLY

10

NARUTO VOL. 71

MASASHI KISHIMOTO

VIZ MEDIA

11

ONE-PUNCH MAN VOL. 2

ONE

VIZ MEDIA

12

AMERICAN BORN CHINESE

GENE LUEN YANG

MACMILLAN

13

ATTACK ON TITAN VOL. 16

HAJIME ISAYAMA

KODANSHA COMICS

14

SGA VOL. 1

BRIAN K. VAUGHAN

IMAGE COMICS

15

USERNAME: EVIE

JOE SUGG

RUNNING BOOK PRESS

16

WATCHMEN

ALAN MOORE

DC COMICS

17

CIVIL WAR

MARK MILLAR

MARVEL COMICS

18

PEARLS GET SACRIFICED: A PEARLS BEFORE SWINE TREASURY

STEPHAN PASTIS

ANDREWS MCMEEL

19

ATTACK ON TITAN VOL. 1

HAJIME ISAYAMA

KODANSHA COMICS

20

BATMAN: THE DARK KNIGHT RETURNS

FRANK MILLER

DC COMICS
For past BookScan Top 20 Graphic Novel lists, see the "BookScan Top 20 GN Index."