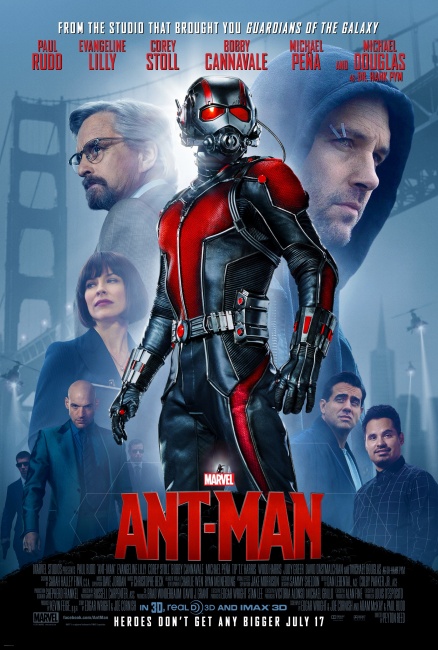 Marvel Studios announced a new Phase Three film,
Ant-Man and the Wasp
, which will debut on July 6, 2018.
Captain Marvel
, which had been moved to November 2, 2018 (see "
Spider-Man to Join Marvel Cinematic Universe
"), has been moved back again, this time to March 8, 2019, while the
Black Panther
film has been moved up from July 6, 2018 to February 16, 2018 to accommodate the new
Ant-Man
and the Wasp
movie. In addition Marvel Studios staked a claim to three more release dates (May 1, 2020, July 10, 2020, and November 6, 2020) for as yet unnamed movies.
Paul Rudd's Scott Lang will appear in the new Ant-Man and the Wasp film alongside Hope Van Dyne in what is the first announced Marvel Studios film named after its heroine (even though she does have to share the credit). Paul Rudd appeared in the first Ant-Man movie, which debuted this summer and has already earned $410 million worldwide (and the movie is yet to open in China, the world's second biggest movie market). Since the first Ant-Man movie cost just $130 million to make (far less than Age of Ultron), Marvel Studios has another solid hit on its hands.
Today's announcement on Marvel.com likely signals that the studio has a treatment for the Ant-Man and the Wasp movie that it likes, and is making the film a priority. Marvel Studios should be able to generate quite a bit of publicity over the search for an actress to play the Hope Van Dyne version of the Wasp character. Paul Rudd's Scott Lang will also appear in the next Marvel Phase 3 film, the Russo Brothers' Captain America: Civil War, which debuts on May 6, 2016, which will keep the character in the public's eye.
The significance of the other changes is less easy to assess. The Captain Marvel film's delays could indicate that the studio still doesn't have a treatment that it likes, while moving the Black Panther film up five months puts additional pressure on this project, which does not appear to be that far along at this point. A new writer is just now being hired (see "John Robert Cole to Write Black Panther Film"), and no director has been attached to the project, which was turned down by Selma helmer Ana DuVernay.