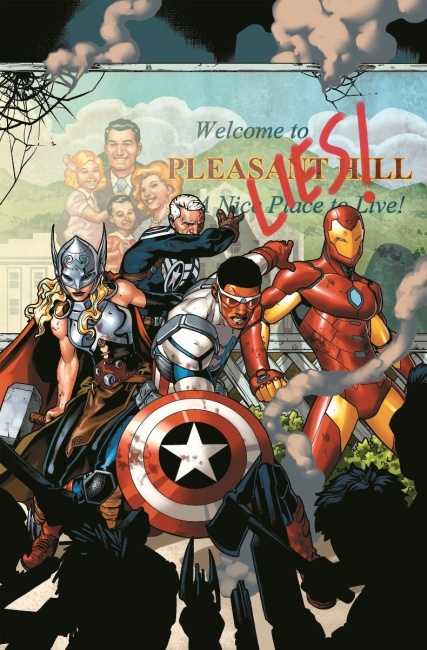 New York Comic Con News:
Marvel has announced its next big event will be
Avengers: Standoff
launching in early 2016.
The series will begin in March with
Standoff! Assault on Pleasant Hill Alpha
written by Nick Spencer (
Morning Glories, Ant-Man
), with art by Jesus Saiz (
Manhunter, Brave and the Bold
).
The story centers on the small gated community of Pleasant Hill, which hides a dark secret which keeps its residents locked inside. When they finally attempt escape, the Avengers are called in to keep them inside. According to
Newsarama,
Spencer said the story was originally planned for Captain America's 75th Anniversary in 2016, so Sam Wilson, Steve Rogers and Bucky Barnes will all feature prominently in the story.
Tie-in titles will include
Sam Wilson, Captain America; All-New, All-Different Avengers; Uncanny Avengers; New Avengers, Agents of S.H.I.E.L.D;
and others.