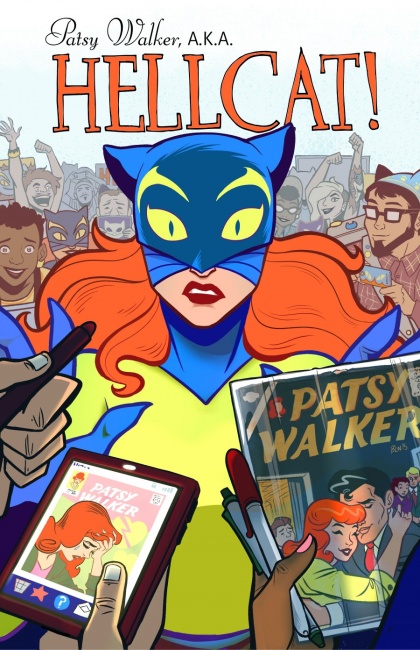 Patsy Walker, A.K.A. Hellcat #1
Publisher: Marvel Comics
Release Date: December 23, 2015
Cover Price: $3.99
Writer: Kate Leth
Artist: Brittney Williams
Cover: Brittney Williams
Format: 32 pages, Full-Color
Rating: Teen
She's managed to escape her past, her enemies and even the depths of Hell (literally), but nothing will prepare Patsy Walker for the hard knock life of job hunting in New York City. Being Hellcat is hard enough--why does being Patsy Walker have to be so hard too? Not to mention everyone's going crazy for the reissue of the old romance comics that her mom wrote about Patsy's actual teenage years. Getting recognized left and right is starting to cause trouble in both her personal and super hero life. But hey, nothing keeps Patsy down. She loves life, no matter what curveballs it throws at her.
Variant Covers by Sophie Campbell, George Perez, and Marguerite Sauvage; Hip-Hop Variant by Javier Pulido; Action Figure variant by John Tyler Christopher.
Description of preview: 10 total pages (6 covers and 4 interior pages).