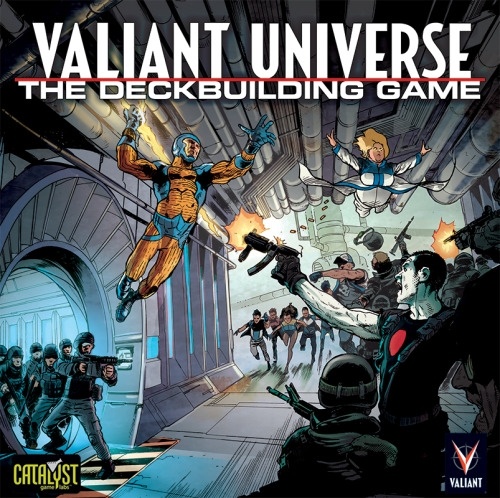 Catalyst Game Labs has announced it will release
Valiant Universe: The Deckbuilding Game
in Summer 2016.
(Click image for larger view.)
Valiant Universe: The Deckbuilding Game focuses on the struggle between rival organizations in the Valiant Universe vying for control of a secret base in Alcatraz called the Facility. Players battle each other, controlling superheroes, combat troops, and dealing with an ever-changing setting, as the Facility moves and changes during the game.
This game shares a setting with an earlier Catalyst project, Transcendent's Edge, a sourcebook for Valiant Universe: The Roleplaying Game (see "'Valiant Universe: Transcendent'sEdge'"). Catalyst designer Randall N. Bills (Shadowrun 3rd Edition) says we should expect interesting twists on the deckbuilding genre in this game, similar to what it did with Shadownrun: Crossfire (see "'Shadowrun: Crossfire' This Fall").
This game is just the latest produced by Catalyst Game Labs under their 2014 licensing agreement with Valiant Entertainment (see "'The Valiant Universe RPG'"). The MSRP for the game has not yet been announced.