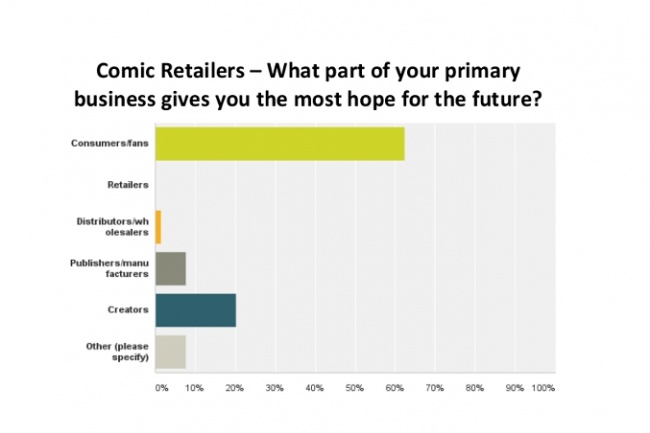 Comic retailers are optimistic about their market, but concerned about publishers, according to the results of a new survey conducted by ICv2 in the run-up to the holiday season. Asked what part of their primary business gives them the most hope for the future, over 60% of comic retailers chose "consumers/fans." The percentage choosing consumers/fans was over three times as much as the second choice, creators, which was chosen as the part of the business giving the most hope for the future by around 20% of comic retailers. Publishers was the third most frequent choice, but was picked by only about 8% of respondents.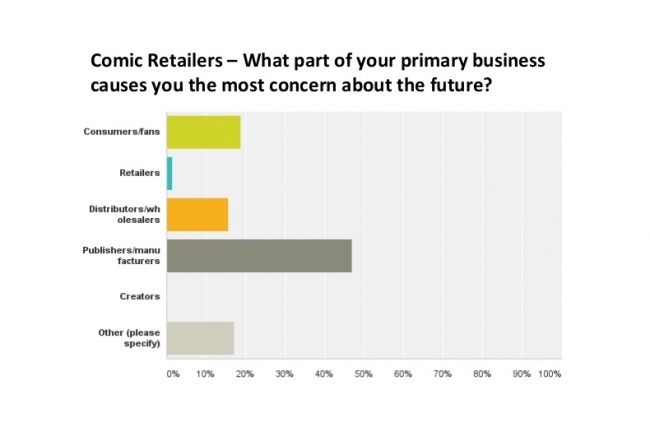 Asked what part of their primary business causes the most concern about the future, nearly half of comic retailers chose publishers, the companies that curate, edit, package, market, and in some cases create the content that drives the business. But it was clear what retailers were thinking about the creative side, as not a single respondent chose creators.
The result isn't surprising in a year when both of the Big Two comic publishers attempted line-wide relaunches, with one (Marvel) blowing the release schedule of its biggest event in recent history (see "Marvel Delays Hit Collections, 'Secret Wars'), and the other (DC) releasing both an interstitial storyline and relaunches of its line to weak response (see "DC's Post-Convergence #1's Post Lackluster Debuts").
Reflecting a split view on the consumer market (although weighted heavily toward the positive), just under 20% of responding comic retailers said that consumers/fans gave them the most concern. Next biggest, the "other" category included about 8% of retailers who said that some form of online competition, including digital, was their biggest cause of concern. Distributors/wholesalers was fourth, with around 15% of comic retailers saying that was the part of the business that caused them the most concern about the future.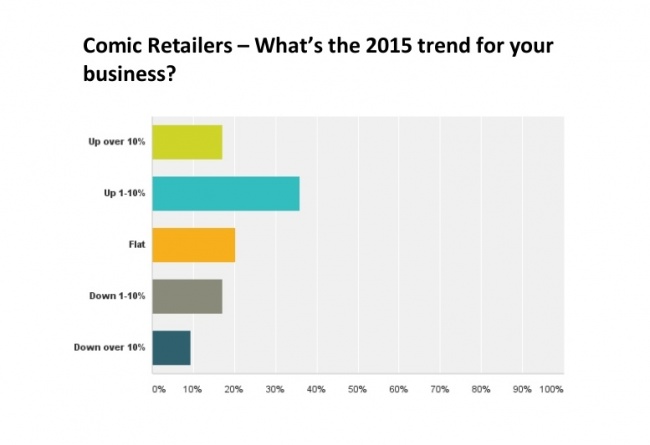 Reflecting the overall trends we're seeing (overall sales in comic stores are up 5.89% through November, according to Diamond, see "
Comics Turn Around in November
"), comic retailers were largely positive about sales in 2015, with around 35% reporting sales up 1-10% and half that many, around 17%, reporting sales increases north of 10%. Around 20% of comic stores were flat, with a significant minority, over a quarter, down.
Survey respondents were recruited via multiple channels (ICv2 email, editorial, and advertising) during November 2016. To qualify for this sub-group, respondents had to self-identify as retailers and describe comics as their primary business (biggest category in dollars). Given that the sample is self-selected and relatively small relative to the size of the population, it may differ significantly from the actual situation for comic retailers as a whole.
Click any image for larger view or see the graphs in the gallery below.