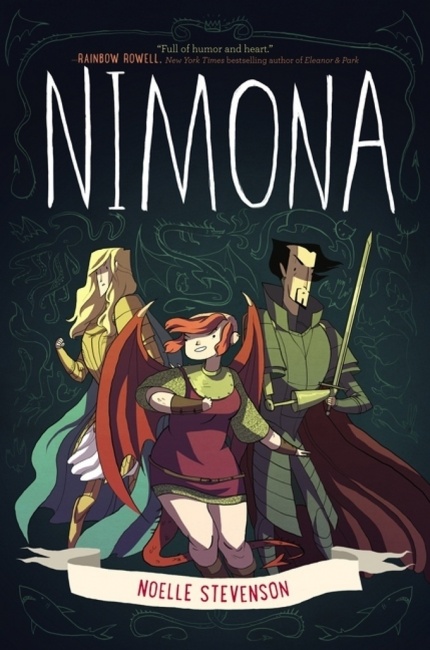 ICv2 surveyed 15 "Best of 2015" graphic novel lists, and compiled a list of over 200 graphic novel titles to bring you the Top 15 graphic novels that appeared repeatedly on critics' lists, in order of number of times each title appeared.
The best graphic novels of 2015 lists were from Forbes, AV Club, Paste, NPR, Kirkus, School Library Journal, Vulture, Publisher's Weekly, Village Voice, Comics Beat, Slate, Amazon, Hollywood Reporter, Goodreads, and The Guardian.
The title that appeared most frequently on the "best of" lists we compiled? Nimona, by Noelle Stevenson. Here's the full ranking of the titles that appeared on the most 2015 "best of" graphic novel lists.
Nimona, by Noelle Stevenson (Harper Teen) – 11 lists
Step Aside Pops, by Kate Beaton (Drawn & Quarterly) – 10 lists
Killing and Dying, by Adrian Tomine (Drawn & Quarterly) – 7 lists
SuperMutant Magic Academy, by Jillian Tamaki (Drawn & Quarterly) – 7 lists
March: Book Two, by John Lewis, Andrew Aydin, Nate Powell (Top Shelf) – 6 lists
The Arab of the Future, by Riad Sattouf, trans. from the French by Sam Taylor (Metropolitan) – 5 lists
The Sandman: Overture Deluxe Edition, by Neil Gaiman, J.H. Williams III, and Dave Stewart (Vertigo/DC) – 5 lists
The Story of My Tits, by Jennifer Hayden (Top Shelf) – 5 lists
Drawn & Quarterly: Twenty-Five Years of Contemporary Cartooning, Comics and Graphic Novels (Drawn & Quarterly) – 4 lists
The Unbeatable Squirrel Girl, by Ryan North and Erica Henderson (Marvel) – 4 lists
Two Brothers, by Fabio Moon and Gabriel Ba (Dark Horse) – 4 lists
Black River, by Josh Simmons (Fantagraphics) – 3 lists
One-Punch Man, Vol. 1 by ONE and Yusuke Murata (VIZ) – 3 lists
The Multiversity, by Grant Morrison, Ivan Reis, Various (DC Comics) - 3 lists
The Oven, by Sophie Goldstein (AdHouse) – 3 lists
These Children's graphic novel titles also appeared on multiple lists:
The Marvels, by Brian Selznick (Scholastic) – 3 lists
Baba Yaga's Assistant, by Marika McCoola and Emily Carroll (Candlewick) – 3 lists
The Princess and the Pony by Kate Beaton (Scholastic/Levine) -3 lists
Sunny Side Up by Jennifer Holm and Matthew Holm (Scholastic/Graphix) – 2 lists
Space Dumplins by Craig Thompson (Scholastic/Graphix) – 2 lists
Lumberjanes, Vol. 1: Beware the Kitten Holy by Grace Ellis, Noelle Stevenson, & Shannon Watters. illus. by Brooke Allen. (BOOM! Studios) -2 lists