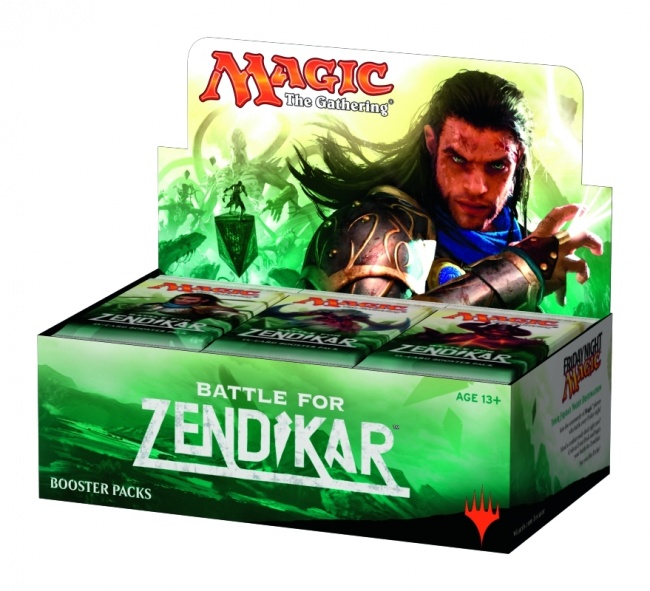 Battle for Zendikar
"had the strongest start to a set in the brand's history," Hasbro CEO Brian Goldner said of subsidiary Wizards of the Coast's Fall set for
Magic: The Gathering
. The comments came in the company's earnings call for Q4 and full year 2015 Monday.
Hasbro's sales in its Games category, which includes Wizards of the Coast and brands sold under Hasbro's own brand, were up 8% for the year (absent the impact of foreign exchange), or 1% after foreign exchange impacts were included. Q4 was where the action was; sales were up 11% for the quarter in the category.
The company attributed the strength in the category to WotC's
Magic: The Gathering
, and Hasbro's
Monopoly
and
Pie Face. Pie Face
is a new game made for social media; videos of players getting pied are rampant.
Overall revenue of $4.45 billion was up 4% for the year, or 13% when foreign exchange impacts are excluded (the dollar strengthened in 2015, which means that non-U.S. revenues go down when counted in Hasbro's dollar-denominated earnings). On a constant currency basis, growth accelerated in 2015.
Q4 and full year net earnings were also up, by 13% and 9%, respectively.
The biggest growth category was Boys, behind Star Wars, Avengers: Age of Ultron, and Jurassic World, all of which were huge hits and drove a lot of toy sales. The category was up 35% for the quarter and 20% for the year.
Star Wars was the biggest brand for the company, out of all of its licenses and its house brands. Revenues for
Star Wars
products was comparable to prior movie years, specifically 2005, Hasbro CFO Deb Thomas said on the call.
Goldner took a victory lap in the conference call, as transcribed by Seeking Alpha, "it has taken us 10 years and significant investment to be in the position of successfully executing our strategy," he said. "Today we are beginning to unlock the full economic value of our brands. The benefits of our strategy are not only delivering revenue gains, but are also driving higher levels of growth and operating margins which we believe are sustainable for the long term."
Looking ahead, the company expects that 2016 sales of Star Wars merch will be equal to sales in 2015. It is also launching its first
Disney Princess
and
Frozen
lines, new licenses that it took from Mattel. That should help to turn around its Girls business, which was down 17% for the quarter and 22% for the year.
And as has been the case now for several quarters, Goldner pointed to investment in the online version of
Magic: The Gathering
as something that will bear fruit in the future. The first revenues from the new online game, according to comments in the earnings call, will be in 2017. "This is a multiyear investment program which we believe will expand the potential market for
Magic
over the long term," he said.