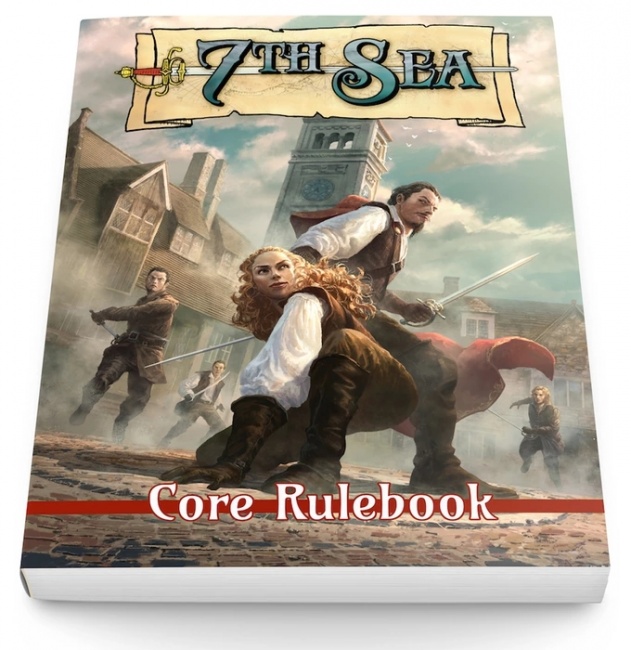 John Wick Presents has made more than $250,000 on the first day of a Kickstarter to relaunch the
7th Sea
roleplaying game, more than any other Kickstarter RPG campaign on its first day.
The RPG is set in a world of swashbuckling and intrigue, exploration and adventure, on the continent of Theah. Players take the roles of heroes and may fight global conspiracies and sinister plots; or explore ancient ruins of a race long vanished from the continent; or protect the king and queen of Theah from fierce rivals. The 300-page, full-color
7th Sea: Second Edition
book will include everything players need to play the game, maps of Theah, and more. MSRP was not announced.
The Kickstarter, which reached its modest goal of $30,000 in seven minutes, has raised $365,457 from 3,171 backers ($115.25/backer average) as of this writing, one day into the 33 day campaign. The campaign has a retailer level for four copies of the
7th Sea: Second Edition
rulebook, with the option to add more copies after the campaign closes.
The campaign has already funded a full line of additional products including
The New World
sourcebook,
The Pirate Nations
sourcebook,
The Nations of Theah
sourcebook, a
GM Screen,
a
Storium Deck
, a map, and two novels.
John Wick Presents purchased rights for the game from Alderac Entertainment Group last November (see "
John Wick Buys '7th Sea' From Alderac
").