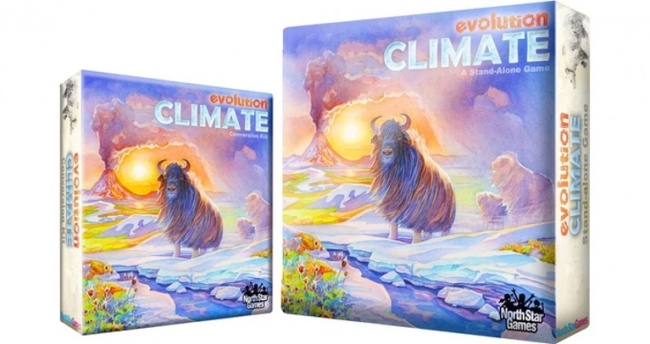 Toy Fair News:
North Star Games' hit natural selection strategy game
Evolution
will receive a new expansion,
Climate,
in October. Its party game
Wits & Wagers
will also receive a new
Epic Geek Edition
this summer.
Described as quality "edutainment" by Nature magazine (which noted that "making population genetics fun is no mean feat)," the Evolution base game has sold almost 30,000 copies, according to North Star's Luke Warren. The game is in its second edition, and already has one expansion (see "North Star's 'Evolution' Evolves, Expands"). Now the environment becomes a new game dynamic in the Climate expansion.
Players can move up and down a climate track to warmer or colder ecosystems, which will influence the food supply and population differently. The temperature chosen can also trigger event cards, which might affect certain traits. The climate can affect players like a rival player, Warren said. Players have to think about defending themselves from the climate as they map out their survival strategies.
North Star will release two versions of the new Evolution: Climate expansion. The regular expansion (referred to as a "conversion kit") will include 86 trait cards, a climate track, a climate marker and a rule book. MSRP is $30.00. The stand-alone combo pack which includes the base game and the Climate expansion will be $60.00. Trade release is planned for October 1.
The game is currently seeking funding on Kickstarter and has raised more than $146,000 from over 3,400 backers as of this writing, with 32 days to go. North Star is running a promotion for retailers for Evolution 2nd Edition and the Climate expansion through participating U.S. and Canadian distributors during the campaign. Retailers can "back" the campaign through distributors and will receive their games at the same time as backers (current fulfillment is scheduled for August).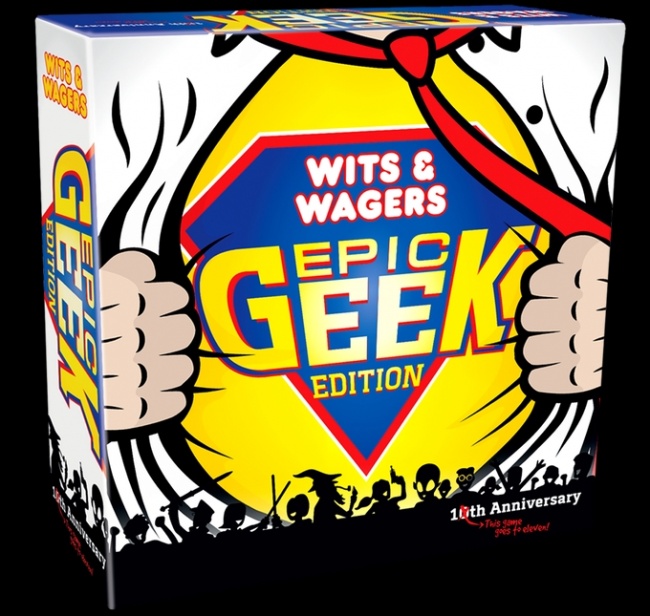 "For
Wits & Wagers - Epic Geek
, every player has a role that you play, so there's a superhero role, a vampire role, a zombie role… and Amanda Conner and Jimmy Palmiotti have created a superhero for one of the players, called the Emerald Angel, " said Warren. "When you put down your 'rip open shirt' token, everyone who answers right on that answer gets an extra chip." Each character role has a special power, the vampire can drain every player of their chips for a round and the zombie can resurrect with five chips if it loses all chips on an 'all in' bet. John Kovalic is doing parody art, Echo Chernik is doing the zombie art, and vampire art will be done by Winona Nelson.
The game is for 6-8 players. Release is planned for June. MSRP will be around $30.00.
(See three character art images in the gallery below.)