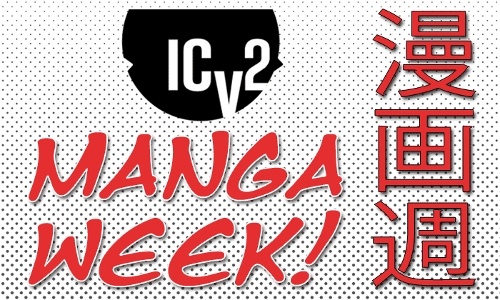 An ICv2 Release.
ICv2 has kicked off its annual Manga Week celebration, sponsored this year by VIZ Media and Dark Horse Comics. During Manga Week, ICv2 will feature special manga content, including interviews, news, retailing tips, market info, and more.
"Manga is enjoying a major resurgence," ICv2 President Milton Griepp said of the content plans for Manga Week, "and it's being driven by multiple factors. We want to understand this phenomenon and help stimulate further growth, and a special week of content is a great way to do that. It's very important that we have sponsors that support this kind of content, and we want to thank VIZ and Dark Horse for their participation in Manga Week again this year."
The first special feature for Manga Week is a two-part interview with VIZ Media Senior Director – Sales and Marketing Kevin Hamric, in which we talk about the market and the surprising scale of one of VIZ's new hits (see "
Interview with VIZ's Kevin Hamric, Part 1
"); and piracy, digital, and the top prospects for 2016 (see "
Interview with VIZ's Kevin Hamric, Part 2
").
Other articles on the business of manga and related fields this week include:
'Tokyo Ghoul' Is #1
ICv2 Interview: Todd McFarlane on his Anime/Manga Line
2016 Yaoi Titles from Sublime
Seven Seas' Licenses 'Re-Monster' & 'Bloom Into You'
Top 10 Manga Franchises--Fall 2016
Netflix in Deal with Production I.G. for 'Perfect Bones' Anime
Bluefin's Japanese Imports Span Japanese, American IP
Interview with the Dark Horse Manga Brain Trust, Part 1
Interview with the Dark Horse Manga Brain Trust, Part 2
'A Lot of People Are Paying Attention to Us Right Now'
Review: 'Behind The Scenes!!' Vol. 1 TP (Manga)

Watch ICv2 every day during Manga Week for more on what's happening in this critical segment of the graphic novel market.

If you're a retailer with a strong focus on manga and are willing to talk about your techniques, please contact us at Tips@ICv2.com.

If you have news on manga we should be covering, please send us a tip at Tips@icv2.com. If you've got a comment on what's happening in manga, please send it to Comments@icv2.com.