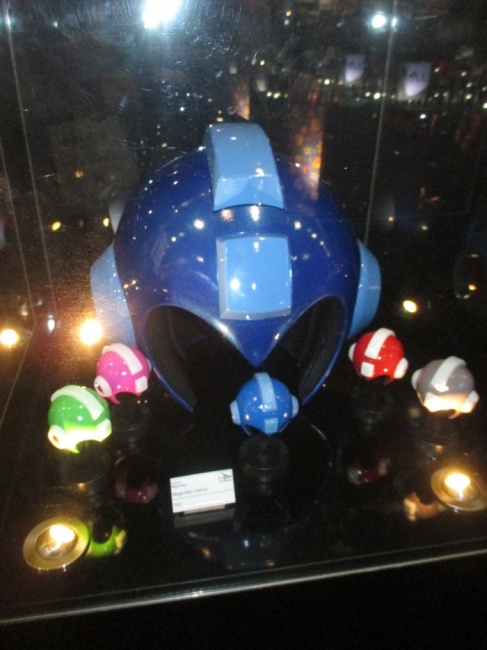 Toy Fair News:
At New York Toy Fair, Bluefin Distribution showed its expanding line of Japanese toys and collectibles, which include a mix of Japanese and American properties. One of the more unique items, on which Bluefin has worldwide distribution rights, according to COO John Parker, is the
Mega Man Helmet
. Retailing for around $150, the helmet can actually be worn ("the fans love that," Parker said). The first release will be in blue, followed by other colors.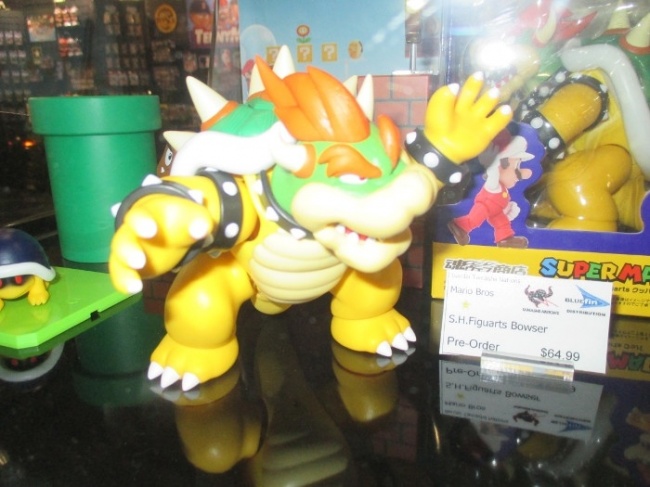 Bluefin is also importing new Tamashii Nations figures based on video game property
Super Mario,
with a
Bowser
figure and
PlaySet E
the next releases. "[Super] Mario has really grown with a lot of other characters being added, and different environments," Parker told us. "Looks just awesome in real life outside of the game."
Click any image for larger view.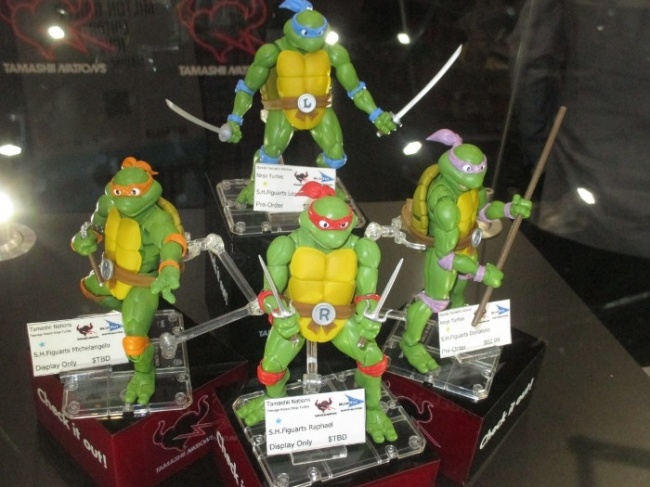 Tamashii Nations is creating a set of new Teenage Mutant Ninja Turtles figures in classic animation colors specifically for the U.S. market. They will only be available for a limited time, with a MSRP of $62.99. The first two to be shipped will be Leonardo, with interchangeable head and hands, weapon holding parts, manhole covers, and katana; and Donatello, with his staff, interchangeable head and hands, weapon holding parts, and a pizza. "We put this up online a couple of days ago and the preorders were well over 1,000 in two days," Parker said.
Bluefin also brought more of its amazing floating figures, or in this case, ships and vehicles. The company has previously distributed an Iron Man that floats over a platform, suspended in mid-air by electromagnetic repulsion (see "
Toy Fair Pics: Bluefin's Marvel and DC Offerings
"). The floating Millennium Falcon was definitely cool, but close behind were a prototype of a floating DeLorean from Back to the Future, and a floating Hoverboard from the same film (see the gallery below). The floating Millennium Falcon will retail for $184.99 and be available in May. The floating DeLorean will retail for $224.99 and be available this Spring.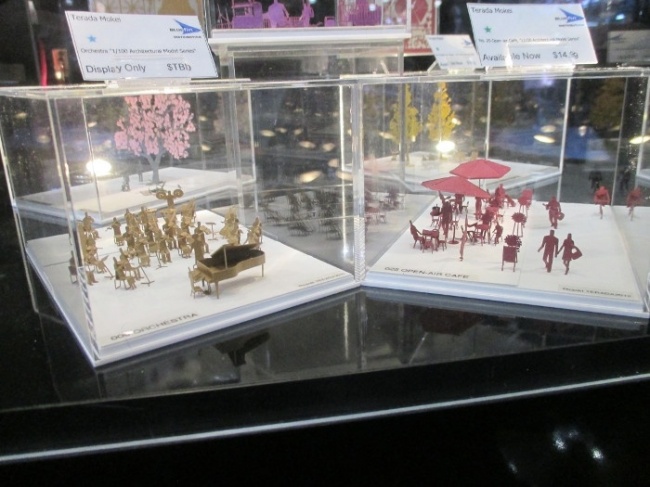 The Terada Mokei 1/100 Architectural Model Series was quite an amazing line. "This doesn't resonate with your crowd as much but it's an illustration of how we're building lines on behalf of specialty retail chains," Parker explained (the company has opened a number of book and other specialty chains for its import lines, see "
Bluefin Opens Books-A Million, f.y.e. and Suncoast, and Spencer Gifts
"). "This is a paper model where you can build your own orchestra, build your own hockey match. It comes in a card like this and you put it together. It's targeting female craft builders. …[T]here's a lot of interest in paper nano and paper goods. This isn't about building a 1944 Spitfire or your dad's 1965 Mustang. It's a different type of activity. You get to break it apart and put it together with tweezers. It takes a great deal of diligence. This is kind of going in that origami direction that is so traditionally popular in Japan."
One of the company's best lines in specialty retail is the venerable Gundam line. "Gundam continues to be really strong," Parker said. "At a large bookstore we continue to grow that business. We're now in 450 stores. We're changing out the planogram 3 - 4 times a year. Last year we sold well over 300,000 model kits for Gundam in those stores."
Bandai division Sun-Star is a new line Bluefin is adding. "It's Sailor Moon lifestyle products like pens and pointers and pencils and stationary," Parker explained. "Sun-Star is also going to be bringing out some Gundam product later this year. They have all the biggest licenses at Bandai so we're introducing this line at a lot of the specialty retail chains. Sailor Moon is for girls, but when the Gundam products come out, it'll be for the guys. "
Bluefin is also very active with Studio Ghibli products. "Studio Ghibli is a player for us," Parker said. "It's in its third year at Hot Topic, a national program. It's the #7 brand/franchise that they have in their chain. We brand manage Studio Ghibli in North America so we're at the table there helping them to develop their program with the different contributors and licensees. We're about to launch a 192-store program in Barnes and Noble in summer. And we're reached an agreement to be a licensee of theirs so we'll be making our own products that will complement the stuff we're bringing in from Japan."
For more pics of upcoming products from Bluefin, including Freddy Mercury, Transformers, Disney, and others, click the Gallery below.