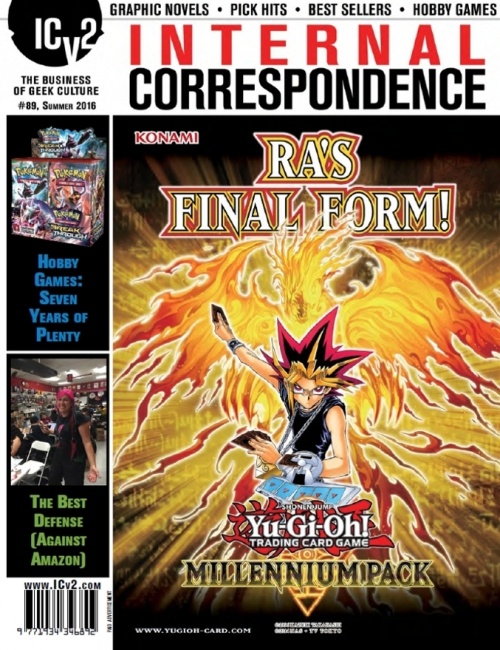 Comic stores are building communities as a way to differentiate themselves from online competition, which often sells the same products at cheaper prices, according to coverage in the just-released
ICv2's Internal Correspondence
#89. The types of community-building events vary widely, from Brian Hibbs' Graphic Novel Club, to The Comic Bug's Sketchy Bugs and Lady Bugs meet-ups, to Samurai Comics' Funko Pop! trading nights, to The Tangled Web's movie screenings, and more. But it all ties back to a personal connection with the customer, and to customers' connections with each other. Stores that are nurturing community are finding success, according to the report.
This issue also finds new opportunities for comics stores in trends that are "bubbling up" in both comics and merch, the titles and products for which retailers are finding unexpectedly strong demand. Examples include new titles from Image such as Island and Monstress, and merchandise tied to Deadpool and online game Fast Nights at Freddy's.
And with the explosion in the number and size of conventions around the country, some retailers are finding ways to convert con-goers to regulars, using a variety of techniques. Surprisingly, some comic stores take very few comics to shows, using the chance to exhibit the wide range of merch tied to popular products as a way to demonstrate their breadth of appeal to potential new customers.
Regular ICv2.com columnist Rob Salkowitz shared his blockbuster thoughts on why "the comics industry as we know it is dead" in his column in the issue, revisiting the predictions he made in his book Comic-Con and the Business of Pop Culture, and finding that the comics business is moving ahead along multiple tracks, and looking very different from the way it looked just a few years ago.
As we have in the past, ICv2 combined graphic novel sales data from both the comic store and book channels for the Fall season (September through December), and accumulated sales information across titles by dollars to determine the Top Franchises. Because it looks at both channels for graphic novels, which target a broad range of consumers across demographic groups, and aggregates info by property, the ICv2 Top 10 Graphic Novel Franchise charts give the best picture of the properties that are driving sales in the U.S.
Here are links to ICv2's charts of the Top Graphic Novel Franchises across four categories for Fall (September-December 2015), which first appeared in Internal Correspondence #89:
Top 10 Superhero/Genre Graphic Novel Franchises--Fall/Holidays 2015
Top 10 Author Franchises--Fall/Holidays 2015
Top 10 Manga Franchises--Fall/Holidays 2015
Top 10 Kids & Tweens Graphic Novel Franchises--Fall/Holidays 2015
For info on how to get your copy of ICv2's Internal Correspondence #89, with the full market reports, Pick Hits of the best upcoming releases, and reviews, see "ICv2 Releases 'Internal Correspondence' #89."