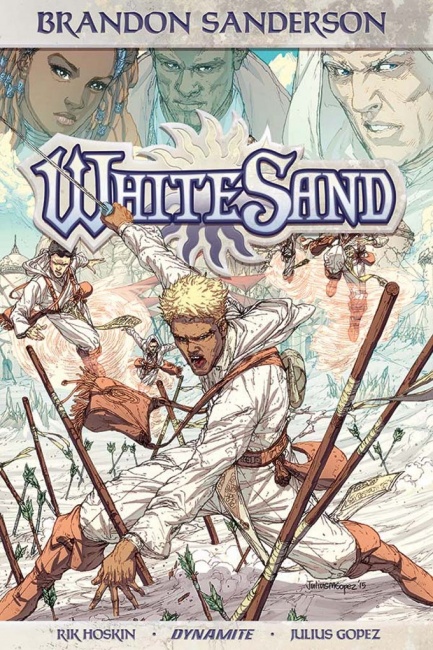 Dynamite Entertainment has announced the June publication of the first volume of
White Sand
, a trilogy of graphic novels based on an unpublished novel by
New York Times
bestselling fantasy and science fiction author Brandon Sanderson.
White Sand
, Vol. 1 will be a full color, 160-page deluxe hardcover with a cover price of $24.99. Diamond first announced the agreement with Sanderson back in 2014 (see "
Dynamite Expands Literary Licenses With Shaft & Sanderson
")
Rik Hoskin, who scripted Amazon's Mercy Thompson graphic novels, is adapting White Sand, while Julius Gopez will provide the interior art and Ross Campbell will do the coloring. White Sand is set on the planet Taldain, which does not rotate, meaning there is a light side and a dark side. The Sand Masters control the dark side thanks to their ability to magically manipulate sand for construction, transportation, and defense. But when the Sand Masters are massacred, the salvation of the planet and their way of life falls to one of the least adept of their lot, who, with the help of a mysterious stranger, must find the strength and ability to set things right.
Sanderson is perhaps best known for his work in completing Robert Jordan's epic fantasy series, The Wheel of Time, and for his own Mistborn series (which has spawned an RPG, see "Mistborn Adventure Game").