On the eve of Emerald City Comic Con, Image hosted an Image Expo event in Seattle today, announcing new work by Brian Azzarello, Howard Chaykin, Jonathan Hickman, Jim Zub, Ed Brubaker, Rick Remender and more, as well as the return of a groundbreaking editor to comics with a new title for Image (see "Karen Berger Returns to Comics").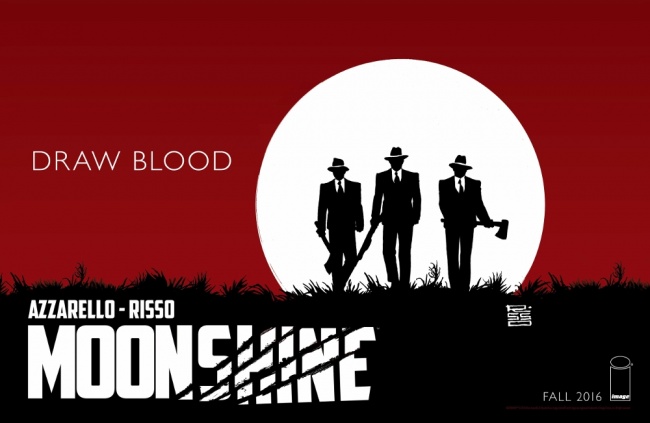 Brian Azzarello will work with longtime artist collaborator Eduardo Risso (
100 Bullets
) and editor Will Dennis on
Moonshine
, a new title set in Appalachia during Prohibition, planned for Fall.
Ed Brubaker will collaborate with artist Sean Phillips and colorist Elizabeth Breitweiser on Kill or Be Killed, reuniting the team from The Fade Out and Fatale for a thrilling deconstruction of vigilantism, launching this Summer.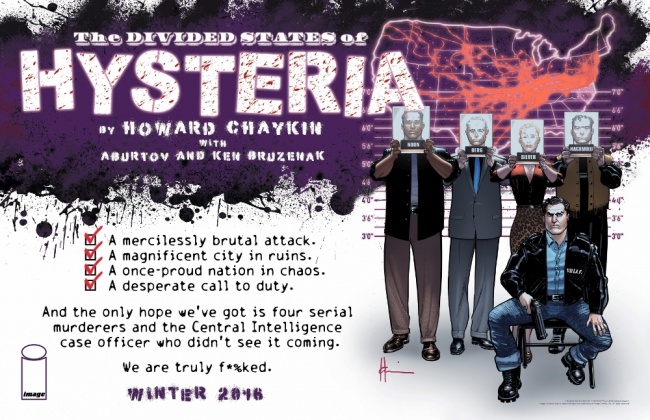 Groundbreaking writer/artist Howard Chaykin (
Satellite Sam, American Flagg!
) will launch
The Divided States of Hysteria
, set during the Second American Civil War after a dirty bomb wipes out New York. Jesus Aburto will color and Ken Bruzenak will letter this title, launching Winter 2016.
Brendan Fletcher & Karle Kerschl (Gotham Academy) have created Isola, an epic fantasy adventure following two women, the captain of the guard and a queen transformed into a tiger, halfway around the globe, launching Spring 2017.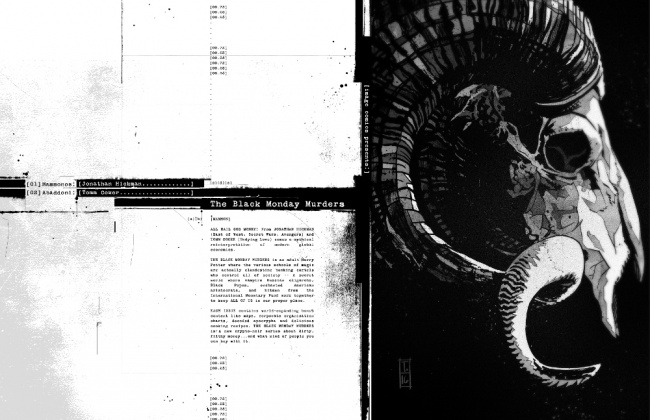 Jonathan Hickman (
East of West
) and Tomm Coker (
Undying Love
) will collaborate on
The Black Monday Murders
, a "crypto-noir series about dirty, filthy, money," launching Fall 2016. Each issue will include maps, corporate org charts, decoded apocrypha and other bonus content.
Jason Latour (Southern Bastards), Ivan Brandon, and Greg Hinkle will co-create Black Cloud, with colors by Matt Wilson, letters by Aditya Bidikar, designs by Tom Muller, and Maria Ludwig editing,, launching Fall 2016.
Steve Niles is writing Winnebago Graveyard, with art by Alison Sampson, colors by Stephane Paitreau, and letters by Clem Robins, a horror-adventure story about a road trip gone wrong, launching Fall w017.
Rick Remender and Jerome Opena, along with Matt Hollingsworth, will create Seven to Eternity, a modern fantasy series following a dying knight from a disgraced house, launching Fall 2016.
Jim Zub and artist Djibril Morissette-Phan will work with colorist K. Michael Russell and letterer Marshall Dillon on Glitterbomb, a horror story against the backdrop of the entertainment industry.
VS, a futuristic drama by writer Ivan Brandon and Esad Ribic with colorist Ive Svorcina, letterer Aditya Bidikar, designer Tom Muller, and editor Sebastian Girner, will launch Fall 2016.
Lella del Duca (Shutter) and Kit Seaton, who will contribute art, colors, and letters, are creating Afar, a new original graphic novel about a character who can astrally project to other planets, launching Fall 2016.
Nathan Fairbairn and Matt Smith's Lake of Fire is set in 1220 AD, when an alien mining craft crashlands in France. The new series will launch Summer 2016.
Brendan Fletcher, Cameron Stewart, and Babs Tarr, the team behind Batgirl of Burnside, will launch Motor Crush, a stylish science fiction action series with lots of motorcycles, in December 2016.
Writer Joe Harris and artist Megan Hutchison's Rockstars, a new ongoing series about rock 'n roll investigators, will launch Fall 2016.
Romulus, a near future story about a martial artist in a revolutionary war against the society that trained her, is written by Bryan Hill with art by Nelson Blake II, in a new Top Cow title launching Fall 2016.
Writer/artist Colin Lorimer, with letterer Jim Campbell and colorist Joana Lafuente, will launch The Hunt, which follows the path of finding out what happens to people after they die, launching in 2016.
Brandon Thomas, with artist Juan Gedeon and colorist Frank Martin will launch Horizon, a new Skybound series about the desperate inhabitants of Earth trying to find refuge on another planet, on July 13.
Jen Van Meter and Rich Burchett's Prima is an espionage/romance adventure set in the past-WWII arts world, launching Fall 2016.
Ron Wimberly's Prince of Cats was released by Vertigo in 2012, and is now returning in a definitive remastered author's edition for Fall 2016.
Click the Gallery below for images from all 20 new titles.