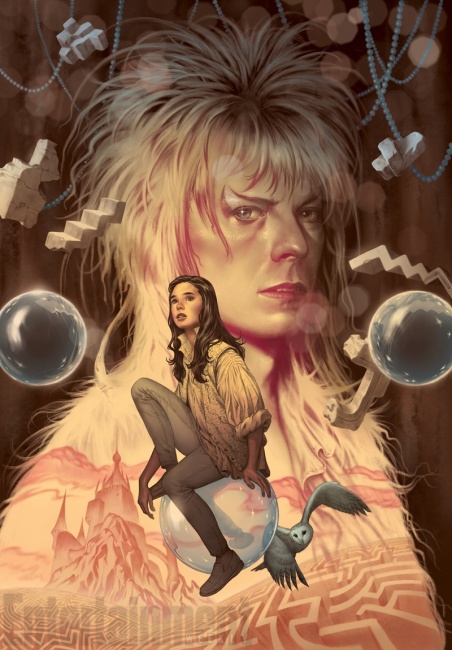 BOOM! Studios' Archaia imprint will partner with The Jim Henson Company to release three comic books for the 30th Anniversary of
Labyrinth, EW
is reporting.
Jim Henson's Labyrinth: 30th Anniversary Special will release in August, followed by Jim Henson's Labyrinth: Tales in September, and Jim Henson's Labyrinth: Artist Tribute in November. The 30th Anniversary Special will be a 48-page comic full of short stories about the secondary characters from the movie including Sir Didymus, Ludo, Ambrosius, and Hoggle. Most of the stories have been previously released individually as part of Free Comic Book Day collections, but there are also two brand new short stories by Jonathan Case and Gustavo Duarte. The book will be a direct market exclusive.
September's Labyrinth: Tales will be a square-bound picture book style release including short stories by Cory Godbey (Flight, Jim Henson's The Storyteller: Dragon). Some of the stories will have been featured in the 30th Anniversary Special in a more kid-friendly format.
Jim Henson's Labyrinth: Artist Tribute will be an oversized art book release. It will feature single gallery images from different artists paying tribute to the film. It will include works by Mike Allred, Dave McKean, Eric Powell, Jill Thompson, David Mack, and Faith Erin Hicks among others.
A board game adaptation of the film is planned for summer release (see "Jim Henson's 'Labyrinth' Comes to Tabletop"), and The Henson Company will also be celebrating the film's anniversary with a theatrical re-release in September. A Blu-Ray release is also planned before the end of the year.