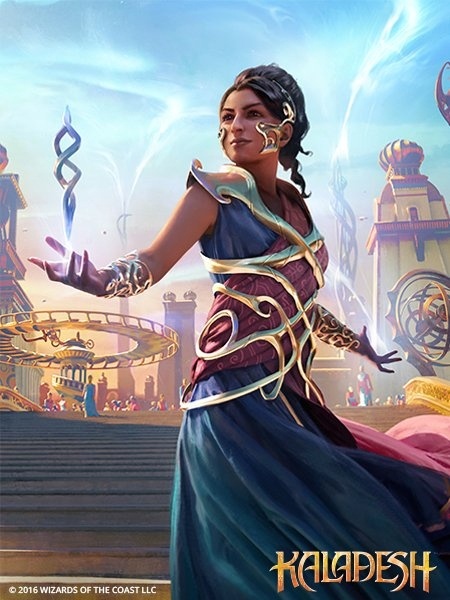 Wizards of the Coast rolled out a
huge
set of announcements today, centering around six new products for
Magic: the Gathering
, as well as the names of the next two sets and a new reveal schedule.
Perhaps the most significant announcement was for two upcoming sets that will be making a splash in the game. Kaladesh is the first of two sets in the Kaladesh block. It will have 264 cards, and have prerelease events on September 24 and 25, with an official release set for September 30.
The follow-up, Aether Revolt, has 184 cards, and has prerelease events on January 14 and 15, 2017, with the official release the following weekend on January 20.
This block focuses on the plane of Kaladesh, where popular planeswalker Chandra was born. Expect a middle-eastern feel along with some degree of steampunk influences. MSRP for both will be $3.99 a pack.
Viz Media announced a third volume of its Art of Magic: The Gathering series, this one focusing on Kaladesh (see "Art of 'Magic: The Gathering -- Kaladesh'").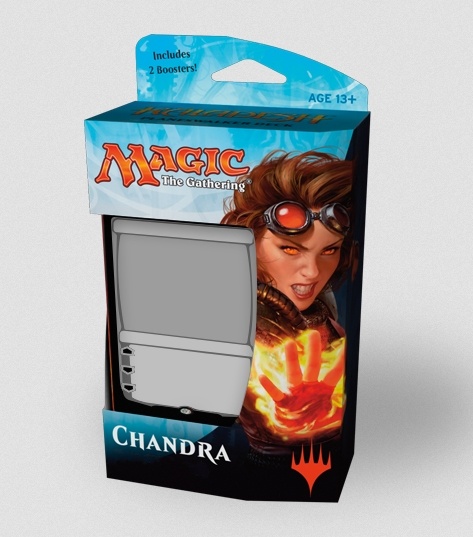 Chandra will be a featured planeswalker in the new
Planeswalker Decks
, preconstructed decks of 60 cards that will be packaged along with two booster packs. Each
Planeswalker Deck
will be named for the planeswalker featured in the deck, and will contain one copy of a mythic rare planeswalker, two copies of a rare spell that has an effect and tutors for that planeswalker, three copies of an uncommon permanently enhanced by that planeswalker, four copies of commons flavored to that planeswalker, four copies of lands to match the deck, and new art for many reprints. MSRP is $14.99 and while the planeswalkers to be featured have not yet been scheduled, Chandra will be one of them. The Planesalker Decks will be released shortly after
Kaladesh
and
Aether Revolt,
respectively.
The Magic "Fat Pack" is being given a facelift and a new name. Now called a "Bundle," they will be introduced with Kaladesh and include a decorative, reusable box with key art from the set, an 80-card land pack, ten booster packs, one player's guide, a spindown life counter, and a rules reference card. MSRP will be $42.99 and the first Kaladesh Bundle will release this fall.
Several new Magic: the Gathering Commander Decks are scheduled for release as well, each featuring 100 cards and a four-color Commander. Five such decks release on November 11, and together there will be 56 never-before-seen cards legal in Vintage and Legacy. MSRP is $34.99 per deck.
Planechase Anthology showcases cards from Planechase and Planechase (2012 Edition), collected together in one package. It features four preconstructed 60-card decks, with a total of 32 rare cards, 86 oversized Planar cards, four slide deck boxes, an oversize slide deck box, 45 double-sided token cards, a special edition planar die, four spindown life counters, and a strategy insert. MSRP is $149.99 and it releases November 25.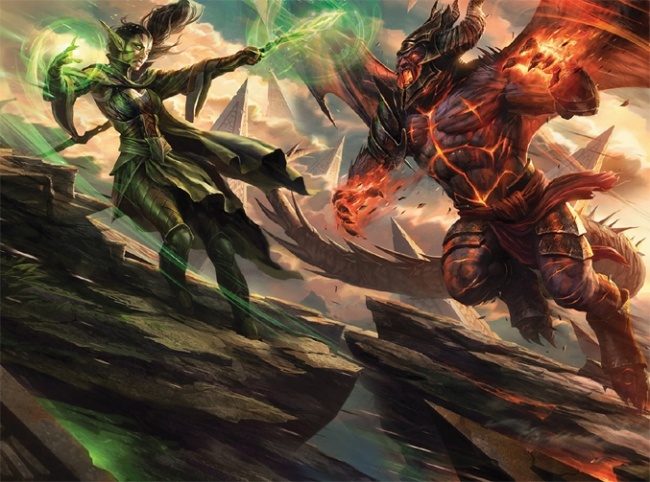 The newest
Magic: the Gathering Duel Deck
will be
Duel Decks: Nissa vs. Ob Nixilis
, pitting the powerful planeswalkers against each other in a battle for the fate of Zendikar. The preservation powers of the powerful elf planeswalker Nissa face off against the demonic prowess of Ob Nixilis over control of the Khalni Heart. MSRP is $19.99 with a release date of September 2.
Magic: the Gathering: Conspiracy: Take The Crown was announced earlier this year with an August 26 release (see "'Magic' Set Gets Name Change, New Images"). MSRP will be $11.99.
Moving forward, Wizards of the Coast has announced that there will be two major product announcements every year – one in the fall and one in the spring. The next announcement day is scheduled for September.