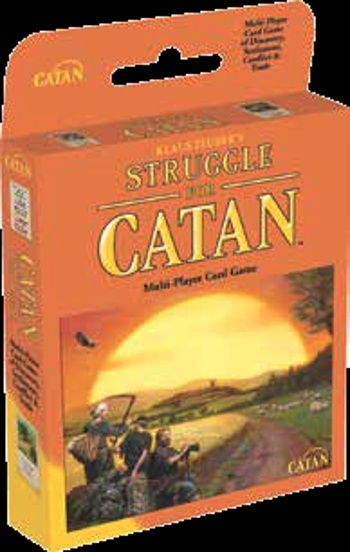 Asmodee NA will release a trio of card-based games in August:
Struggle for Catan, Cash 'n Guns: Team Spirit,
and
Finding Dory: Spot It.
Struggle for Catan is a stand-alone card game adaptation of the hit board game Settlers of Catan originally released by Mayfair Games in 2011 (see "'The Struggle For Catan'"). Players must manage their resources to build roads, settlements, cities and more, while protecting their roads and knights from opponents. The goal is to expand cities to earn victory points and create special advantages. The winner is the first player to earn 10 victory points.
The game is for 2 – 4 players, ages 8 and up, and plays in 30 minutes. MSRP is $13.00. The box features new peg-hook packaging.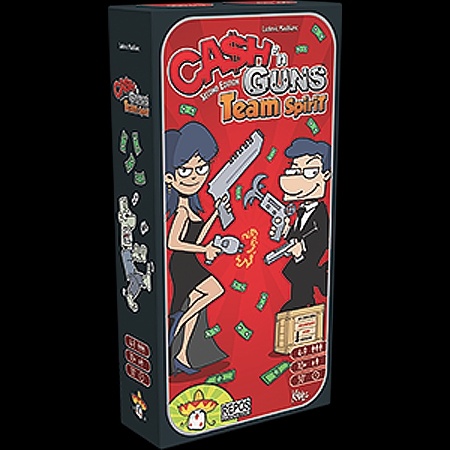 Cash 'n Guns: Team Spirit is the second expansion for the party game of looting, shooting and bluffing (see "Asmodee Has 'More Cash n' More Guns' For Gen Con"). There are new rules for team play and adding a ninth player. The expansion also adds mercenaries, 12 for-hire thugs who offer teams a temporary advantage as well as a deeper strategic plan. Finally, there are 7 new characters with new surprises, new powers and new guns.

The game is for 4 - 9 players, ages 10 and up, and plays in 30 minutes. As an expansion it requires the base game to play. MSRP is $29.99.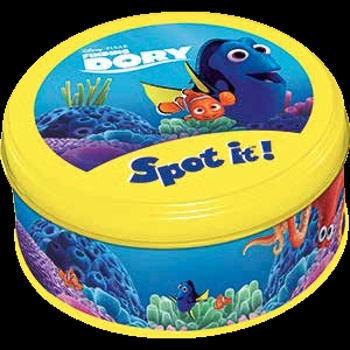 Asmodee NA announced it had acquired the popular family game franchise
Spot It!
past summer (see "
Asmodee Acquires 'Spot It!'
"). Now it will add the Disney - Pixar movie
Finding Dory
to a new iteration of the game.
Finding Dory Spot It!
will come with a variety of unique symbols for players to identify and match from card to card. The symbols represent popular characters including Nemo, Dory, Marlin, Nemo's school pals, and some familiar sea turtles.
The game includes 55 unique cards and 5 mini-games. The game is for 2 -8 players, ages 6 and up, and plays in 10+ minutes. MSRP is $12.99.