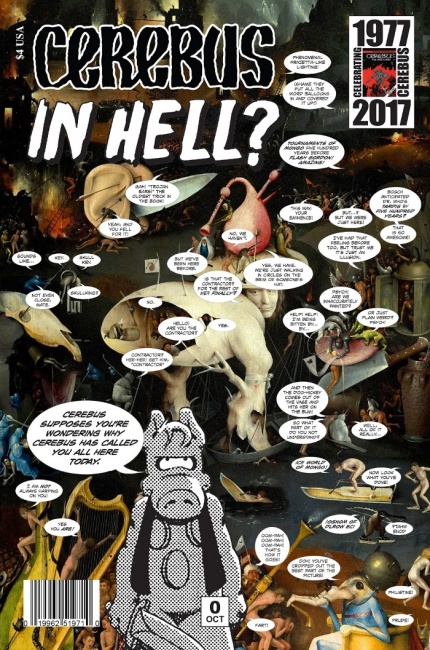 Cerebus creator Dave Sim's Aardvark-Vanaheim Inc. has announced that it will release a new Cerebus miniseries,
Cerebus in Hell
, beginning with issue #0 in October, and following with issues #1-#4 in January through April of 2017. Sim explained the genesis of the project and its form. "I haven't been able to draw since February 2015 because of a mysterious wrist ailment, but I thought people deserved an answer to 'So where did Cerebus end up?," he said.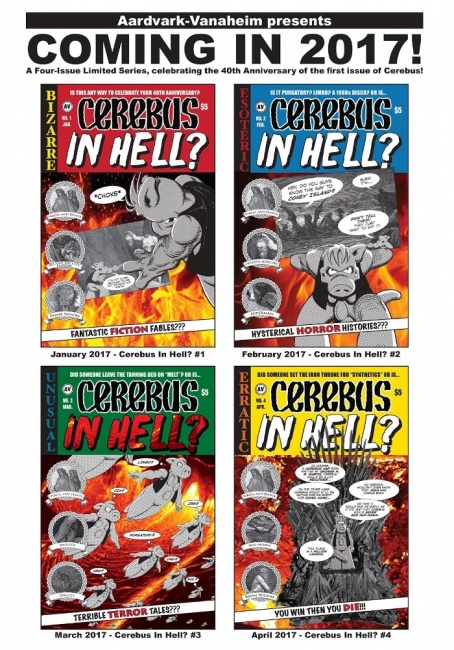 The project is tied to the 40th anniversary of the launch of
Cerebus the Aardvark
, Sim's groundbreaking 300-issue magnum opus, in 1977.
The new comics will each include 22 four-panel strips with Cerebus photoshopped into Gustave Dore's engravings of Dante's Inferno, with scripts by Sim and Sandeep Atwal. Ninety additional strips will be released as a daily webcomic beginning June 25 at cerebusdownloads.com , with weekly compilations at amomentofcerebus.com.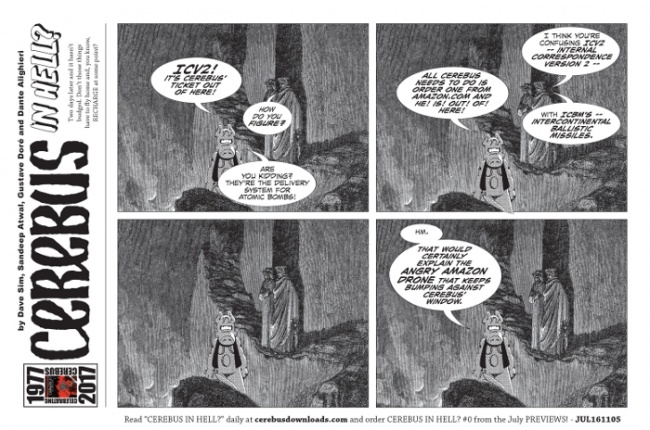 Sim and Atwal produced 30 unique promotional strips for retailers and comic news sites, including ICv2.
Click image for larger view.
"We threw all of the store names into a hat and pulled out 30," Sim said. Some of them I couldn't think of a gag, so we'd pull out another name until we found one where I could think of a gag." Sim urged retailers receiving the strips to post them, and the webcomic strips, to their websites and social media.
Click gallery below for exclusive Cerebus strip in panel-by-panel.