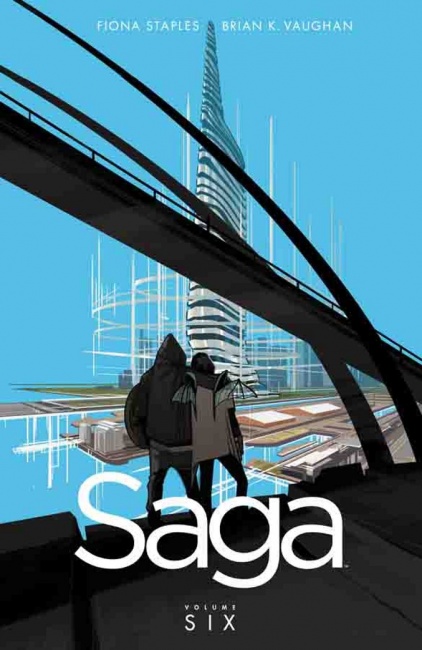 A new volume of Brian K. Vaughan and Fiona Staples'
Saga
topped the sales of graphic novels in bookstores in July according to the Top 20 Adult Fiction Graphic Novel chart provided exclusively to ICv2 by Nielsen BookScan.
There was considerable churn on the list, with seven new titles. It might appear at first glance that the sales-driving influence of movies and TV was a bit less apparent this month, with the comic book-only
Saga
dislodging
The Killing Joke
, which ICv2 had predicted would top the charts again this month due to the impending debut of the
Suicide Squad
movie (see "
June 2016 BookScan
"). But it should be noted that two new titles on the list,
Harley Quinn
Vol. 1 at #10 and
Suicide Squad: Kicked in the Teeth
at #15. are both directly related to the film, which opens August 5.
Saga
Vol. 6 topped graphic novel sales in the direct market in June, though its first month comic shop sales were down a bit from Vol. 5 (see "
Eleven Comic Titles Over 100,000 in June
").
Another interesting new entry is Marjorie Liu and Sana Tekada's
Monstress
Vol. 1 from Image, an epic fantasy that takes place in a matriarchal, alternate Asia, and which appears to be a natural for the bookstore GN market. The other new titles this month are shonen manga volumes: the sports manga
Haikyu!!
Vol. 1 at #8, and
The Ancient Magus' Bride
Vol. 5 at # 19. Bookstore graphic novel sales often go to classic volumes, which is why
Watchmen
is almost always in the Top 20, but this month saw the return of another graphic novel classic, Gene Luen Yang's
American Born Chinese
, which made its first appearance on the list since January (see "
January 2016 BookScan
").
Titles moving up this month include Chuck Palahniuk's
Fight Club
#2 from Dark Horse, which moved up from #4 to #3 this month and Brandon Sanderson's science fiction graphic novel
White Sand
from Dynamite that moved up from #17 in June to #8 in July (see "
Dynamite to Publish a Trio of Graphic Novels By Brandon Sanderson
"). Meanwhile Vertigo's
Preacher Book One
faded from #3 in June to #10 in July (just as ratings for the AMC's
Preacher
TV adaptation were sliding a bit during the shows inaugural season), and Paul Dini's real life saga
Dark Night: A True Batman Story
fell from #11 in June to #18 in July.
Dropping off the list this month after an impressive 3-month run was
The White Donkey: Terminal Lance,
a soldier's view of the Iraq War by former marine Maximilian Uriarte.
There were nine manga titles in the July Top 20, and Viz Media led all publishers with eight titles on the list including five volumes of
Tokyo Ghoul
and two volumes of
One-Punch Man
including Vol.7, which debuted on July 5 and ended up at #5. DC Comics was next with six titles, three of which were directly tied into
Suicide Squad
. Marvel was shut out and Image was the only publisher (other than VIZ Media and DC Comics) to have more than one title on the July list.
BookScan Top 20 Graphic Novels in JuLY 2016

Rank

Title

Author

Publisher

1

SAGA VOL. 6

BRIAN K. VAUGHAN

IMAGE COMICS

2

BATMAN: THE KILLING JOKE DLX ED

ALAN MOORE

DC COMICS

3

FIGHT CLUB 2 HC

CHUCK PALAHNIUK

DARK HORSE COMICS

4

ONE-PUNCH MAN VOL. 7

ONE

VIZ MEDIA

5

TOKYO GHOUL VOL. 7

SUI ISHIDA

VIZ MEDIA

6

TOKYO GHOUL VOL. 1

SUI ISHIDA

VIZ MEDIA

7

HAIKYU!! VOL. 1

HARUICHI FURUDATE

VIZ MEDIA

8

BRANDON SANDERSON'S WHITE SAND VOL. 1 HC

RIK HOSKIN

DYNAMITE ENTERTAINMENT

9

MONSTRESS VOL. 1

MARJORIE LIU

IMAGE COMICS

10

PREACHER BOOK ONE

GARTH ENNIS

VERTIGO

11

ONE-PUNCH MAN VOL. 1

ONE

VIZ MEDIA

12

HARLEY QUINN VOL. 1

AMANDA CONNER

DC COMICS

13

AMERICAN BORN CHINESE

GENE LUEN YANG

SQUARE FISH

14

TOKYO GHOUL VOL. 2

SUI ISHIDA

VIZ MEDIA

15

SUICIDE SQUAD VOL. 1 (N52)

ADAM GLASS

DC COMICS

16

WATCHMEN

ALAN MOORE

DC COMICS

17

TOKYO GHOUL VOL. 6

SUI ISHIDA

VIZ MEDIA

18

DARK NIGHT: A TRUE BATMAN STORY HC

PAUL DINI

DC COMICS

19

THE ANCIENT MAGNUS' BRIDE VOL. 5

KORE YAMAZAKI

SEVEN SEAS

20

TOKYO GHOUL VOL. 3

SUI ISHIDA

VIZ MEDIA

For past BookScan Top 20 Graphic Novel lists, see the "BookScan Top 20 GN Index."