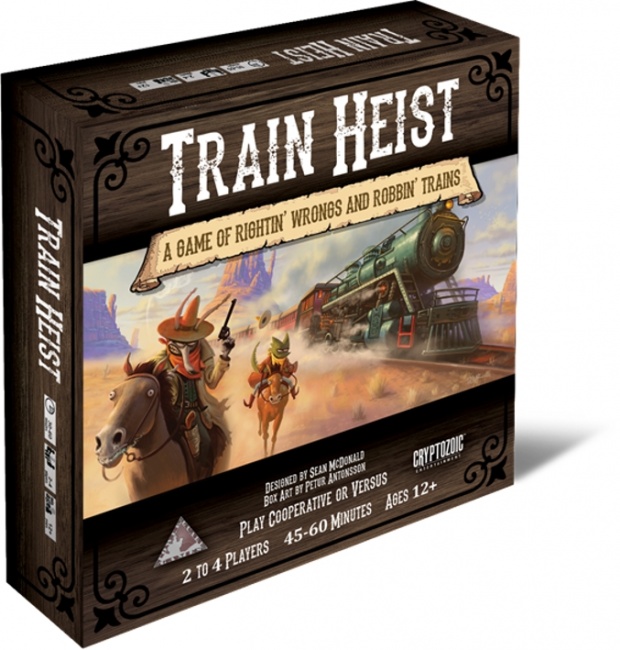 Cryptozoic Entertainment and Tower Guard Games have partnered to release the board game Train Heist to trade in 2017.

The cooperative board game casts players in the role of a band of cowboys out to stop the corrupt Sheriff and the rich folks of Notting County from stealing all the poor townsfolk's money. Players board the train as it travels between three towns on the map, and proceed to loot the corrupt and wealthy passengers, constructing certain poker hands to steal certain loot. Players must evade the Sheriff, who patrols the train and hopes to throw the cowboys in jail.

After acquiring the loot, players race back to the town to distribute the wealth, so the townspeople have something to pay the Sheriff with when he returns to town. If the townspeople have nothing to give the Sheriff, the players must move the Hangman Marker one knot toward the noose. There are also Event cards which can cause the train to suddenly speed up or switch tracks. The players win if they acquire enough loot to meet the Train Heist Goal Marker goal, which is set at the beginning of the game. Players loose if the train stops at a town without loot too many times, and the Hangman Marker reaches the noose.

The box contains 1 quad-fold board, 35 poker cards, 21 event cards, 9 wanted cards, 21 loot tiles, 1 drawstring loot sack, 5 train car minis, 4 cowboy minis, 2 horse minis, 1 sheriff mini, 3 Cherokee tokens, 3 bullet tokens, 2 railroad switch token, 2 magnetic arrows, 40 loot counters, a hangman marker, and goal marker. The game is for 2 – 4 players, ages 12 and up, and plays in 45 – 60 minutes. Specific release date and MSRP were not announced.

The game was funded via a Kickstarter campaign in April 2015 which raised more than $26,000 from 695 backers.