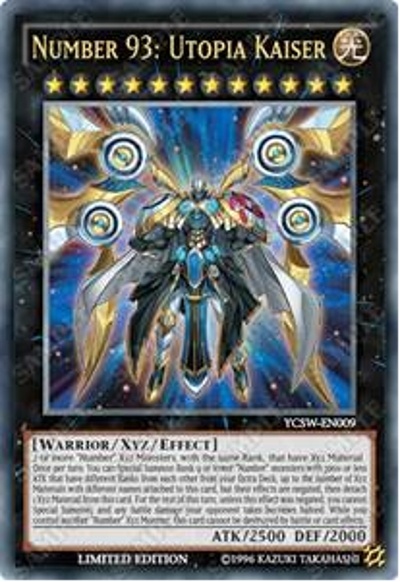 Konami Digital Entertainment will be hosting the first Yu-Gi-Oh! Championship Series event of the 2017 season at the Minneapolis Convention Center in Minneapolis, MN on October 15 – 16.

Event pre-registration begins on Friday, October 14, from 3 - 7 pm. Registered Duelists will each receive five The Dark Illusion booster packs for their participation.

The top finishers will receive the new Number 93: Utopia Kaiser prize card. The card can only be obtained by finishing in the Top Three spots at a Main Event or by winning a special Public Events playoff tournament. The top finisher will receive Ultra Rare Yu-Gi-Oh! Championship Series Prize Card: Number 93: Utopia Kaiser; Yu-Gi-Oh! Championship Series Trophy; paid travel and accommodations to the winner's 2017 World Championship Qualifier; invite to and VIP Status at the 2017 World Championship Qualifier tournament; PlayStation4 system; Yu-Gi-Oh! Championship Series Top Cut Game Mat; and 30 Ultimate Duelist Series Points.

Aside from the main tournament, there will be a Dragon Duels tournament running through the entire convention for players born 2004 or later. Each participant will receive 10 sealed Battle Packs to build their decks. The top four players will receive medals, a Regional Deck Box, 2017 Regional game mat, a Dragon Duel T-shirt, and an invitation to the Dragon Duel World Championship Qualifier. The top player each day will compete in a final showdown for the Dragon Duel Champion's Trophy and Super Rare set of the Darklord YCS prize cards.

To help promote the game to the public, Konami will also offer a number of Public Events, including 2017 Regional Qualifiers, Ultimate Duelist Series Qualifiers, 3 vs. 3 Team Dueling, ATTACK OF THE GIANT CARD!!, Win-A-Mat, Sealed Starter Deck and Structure Deck, Duelist League, Yu-Gi-Oh! Day, School Tournament Series, and Generation Duel Tournaments.